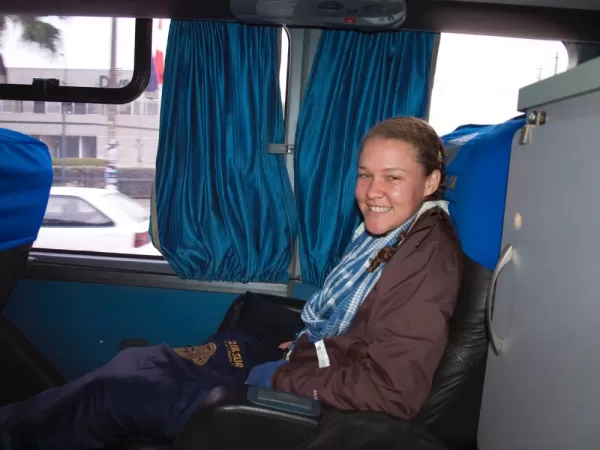 The next day, we had time to walk up to Parque Kennedy, a lovely park surrounded by beautiful buildings including Iglesia de la Virgin Milagrosa and the Municipal Palace. On weekends, people gather in the park, dance in the amphitheatre and sell art along the sidewalks.
We didn't see much of Lima as we left for Nazca around noon. However, I will blurt out some of the images that stand out in my mind: dense marine layer creating a grey hue to everything; lots of Chinese eateries (chifas); rotisserie chicken (pollo a la brassa); lots of colorful buses belching diesel fumes.
After strolling around Miraflores in the morning, we decided to try out the pollo a la brassa before our scheduled pick up at the hotel. We had about an hour before we were to leave for the bus station. Being Americans, I suppose we thought we were going to a fast food chicken joint like KFC. However, I knew we were going to be pressed for time after we ordered the chicken and saw the cook starting to put the whole uncooked chickens on to cook!
We made our rendezvous just in time and met Carlos, our guide for the next week. After a short ride to the bus station, we boarded the biggest bus I have ever seen! We sat on the lower level in plush seats that can recline almost horizontal. If you can believe it, the bus had TV, meals and WIFI!
Our several hour bus trip to Nazca took us along the southern coast of Peru, some of the driest desert on earth. I have to say this is some of the dreariest landscape I have ever seen! The marine layer combined with the fact that this desert is so dry that there is often not a living plant for miles, results in a general lack of contrast that is somewhat depressing. Fortunately, green valleys through which rivers flow out of the distant Andes occasionally give one some relief. The only other structures to break up the monotony are the chicken farms constructed on the open sand. All that rotisserie chicken has to come from somewhere!
We arrived in Nazca in the late afternoon and were picked up at the bus station in a small van for the short ride to our hotel, the beautiful Hotel Majoro. I would be lying if I told you that Nazca was a "vacation destination". Rather, it is a dusty outpost struggling to survive in a harsh, dry climate. The two main industries are tourism and mining. Thank God for the Nazca Lines and thank God the price of gold is going up! As we traveled a short distance out of town, off the main highway and down a bumpy dusty road, I almost caught myself wondering where we were going to set up camp. We suddenly arrived at a tall wooden gate. After honking our horn, the gate suddenly opened and we were amazed to see huge bougainvillea trees with bright pink and red flowers surrounding a lovely courtyard and fountain. So great was the contrast that I had to close my eyes for a few seconds! The Hotel Majoro used to be a hacienda and it sits like a little oasis in the most unexpected place. The grounds are beautiful and a grazing lama, horse and peacocks add a peaceful charm to the place. Yes, it has a swimming pool and poolside bar. Thanks Adventure Life!
That night, we had dinner with our guide Carlos. As with all the other Adventure Life guides we have met, Carlos is extremely knowledgeable and excited to share his country and culture. As the week unfolded, he became a good friend. He lives in Arequipa and his parents own a farm on the coast. Carlos began to introduce us to Peruvian Cuisine. I found the food in Peru to be more flavorful in general than in Ecuador. Great soups, great meat dishes, Pisco Sour and last but not least, Inca Cola!