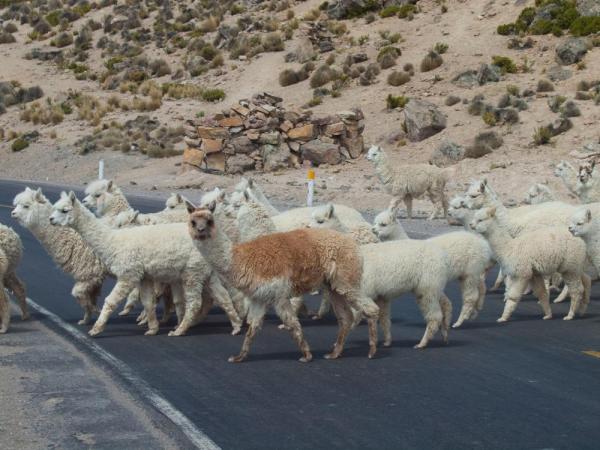 Santiago has visited Machu Picchu many times and knows the best time to arrive. This is before the first train of the day arrives from Ollantaytambo. We boarded our bus and headed up the mountain! As we climbed and climbed, it was easy to imagine how the Spanish failed to discover Machu Picchu during their travels up and down along the Urabamba River far below. The site is perched over 7000 feet high on a mountain peak and dense vegetation hides it from view. In the early 1900's the site was not as much rediscovered as it was made famous by Hiram Bingham, an explorer who was actually looking for the hidden city of the Incas. In fact, local farmers were using part of Machu Picchu to grow food at the time. No one knows for sure what Machu Picchu was used for. Was it a royal vacation retreat or was it predominately a religious site? Furthermore, when and why was the site abandoned? These questions will likely never be answered. However, what is known for sure is that this is one awe-inspiring creation!
As we entered Machu Picchu, we had a chance to take the famous "post card picture" thanks to Santiago. He led us through the various archeological sites and served as our walking encyclopedia. There wasn't one question that he did not have an answer for. He seemed very conscious of our limited time and wanted to make sure we got the most out of our visit. We had a chance to hike a trail to an ancient drawbridge. This really tested my fear of heights as the drop-off at some points was close to 2000 feet straight down. In fact, the trail is closed at the draw bridge because it becomes too dangerous as it is literally carved into the side of a sheer rock face thousands of feet up. We made our way back to the main site and had plenty of time to take great photos. Thank God for digital cameras! My daughter had a chance to soak up some energy by holding her hands over the Inca sun dial. Unfortunately, part of the rock was chipped away a few years ago during the filming of a Cuzcuena beer commercial when the camera crane came crashing down. I wonder what the punishment would have been back in the time of the Incas!
After Santiago was satisfied we had seen as much as we could, we had our passports stamped and boarded the bus for our return to Aguas Calientas. We ate a quick lunch and left on the train back to Ollantaytambo. We then met our driver and headed back to Cusco. During our trip back, we had a chance to learn more about Santiago. He has visited the United States twice while participating in an English language program. During that time, he worked on a ski resort in Colorado. As he described his experiences, I could tell they represent some of the highlights of his life.
My son, Patrick did not feel well all day and after returning to Cusco and checking into the Casa Cartagena, he developed chills and a fever as well as gastroenteritis. That night, we let him rest at the hotel with ample fluids and the three of us went out to dinner at the Monastery Hotel. This is a beautiful luxury hotel just down the street from where we were staying. It exists within the walls of an old monastery and still retains much of the old Spanish charm. The restaurant sits along a courtyard with beautiful gardens. The food was incredible!