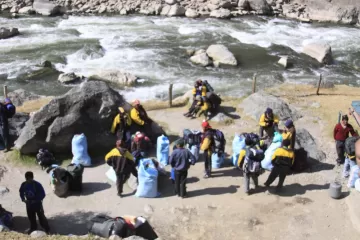 We slept like newborn babes that night, only to awake to the sweet sound of cocoa tea being poured just outside our tent. "Gosh papa!" A Quechua phrase we heard Ayul say over and over again to the porters. When we enquired what it meant, he said, "It's like saying thank you very much." So naturally we took it upon ourselves to use this phrase every time a porter did something for us, catching a few off guard and creating a laughing frenzy.
I'm used to cold breakfasts and food bars while hiking and camping, but here I feel as though I eat as king, an Inca of the time. Never once is the food the same, and always delicious to the very last bite. The porters are too good to us, we thought, as we stuffed ourselves over breakfast with every morsel they put in front of us.
We began a little later in the morning than usual. In fact we were the last one's at the campsite by the time we started the day's hike. Our bodies were grateful for the extra time to rest. Eventually we started off again and began ascending a second summit—much smaller than the first—where almost immediately my left knee began to hurt. An old track injury, that always seems to appear during extensive exercise, was making itself known. Slowly, it worked itself out as I focused climbing the stone stairs with my right leg and supporting my left with my walking stick. My right side burned—especially my butt cheek—as I pulled myself up each step at a determined pace. We laughed at the idea that my right side would be extra muscular by the time we reached the top, and soon I would just be walking in circles because my left side wouldn't keep up.
We visited many ruins—including lookout towers, farming terraces, and ancient dwellings—that were abundantly scattered along the trail, and each magnificent in their construction and design. Slowly the vegetation transformed from small bushes into a lush forest again, full of stunning flowers and active wildlife. It's interesting, as now the higher we climbed, the thicker the foliage grew. Overall, this day was considerably easier than the first two days, as Kelly and I found our breath and more so, discovered a newfound energy. I imagined my blood as thick as syrup, as it transported copious amounts of oxygen and red blood cells through my veins, giving life to my body.
The scenery and landscape increasingly grew more beautiful as we approached our third campsite. Ayul had mentioned that this was his favorite location, and we were all able to see why. As the trail ended, the world opened up and we stood amazed. We would be camping amongst the clouds, and the very peaks that we had admired from the trails and valleys below. You could see in every direction, as far as your sight would carry you, and be astounded by mountain peaks covered in snow, valleys carved by rushing rivers, and impenetrable forest canopies stretching off into an endless horizon. It was truly a sight to behold, as a thrilling yet euphoric feeling surfaced in each of us. We tingled with excitement.
We ended our night watching the sunset behind the Andes great peaks, as laughter over Peruvian wine filled our heads. Gosh papa!