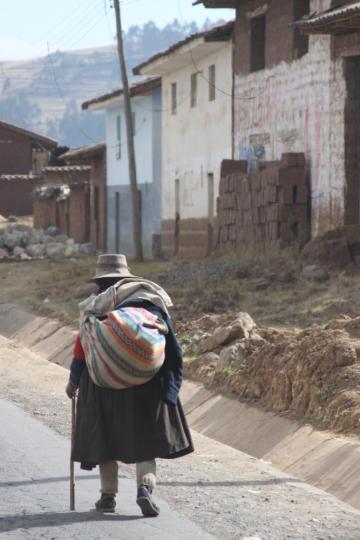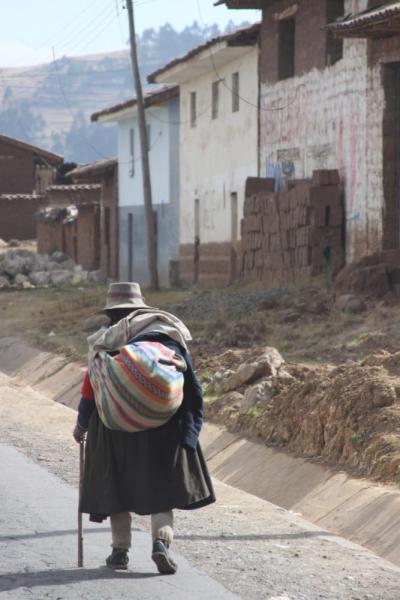 Warmiwanusca is what the indigenous people call this behemoth of a climb, but better known to tourists as "Dead Woman's Pass." Towering close to 14,000 feet, we would ascend from our base camp 4,000 feet up steep winding trails, massive stair cases carved in stone, as well as battle an unrelenting sun, and depleting air supply. Today's hike would test everyone's ability who attempts her path, both physically and mentally.
We'd start early this day. A wonderful breakfast, complimented by my favorite tea, and words of advice from Ayul, was all we needed to motivate us for our impending climb. There would be no horizontal path to follow today, as our ascent began immediately, burning muscles and awakening the heart. Soon, Kelly and I were left in the dust of our Canadian friends as their mountain goat agility kicked into gear. Hearts pounded, muscles came alive, and our breath quickened as we found our pace, slowly climbing the sharp incline.
This part of the trail is mostly uneven stone, worn and obstructed over time and weathering. Any stretches of dirt were short lived, and eventually lead to a cascade of stone stairs. The stairs were definitely the evil of this route. Often we would find ourselves staring up at an infinite climb we had no choice but to do. The morning was brisk, but warmed quickly as the sun rose to a high point in the sky. A canopy—provided by the surrounding forest—offered plentiful shade early on, however tapered off the higher we climbed.
The trail was littered with other hikers, so eventually we made friends with fellow trekkers along the way. We met people from all over the world, from New York to Spain and France, to our own backyard. Interesting to think that for this particular moment, a handful of people from across the globe had something spectacular in common. We all came to Peru in order to hike to Machu Picchu, and here we were, sharing in this experience, rooting each other on as we ascended a formidable pass. A sense of mutual respect surfaced on all faces as nods were given in greeting to others as they passed, faces streaming with salty rivers, as encouragements and laughter could be heard throughout the day. We were all essentially in this boat together, and we could feel it.
Slowly, our green canopy transformed into small bushels of vegetation, now offering little shade. Any area discovered untouched by the sun would be swarming with other hikers, giving no inclination of moving as they sought relief from the heat of the day. Sticking to our steady pace and one foot in front of the other, we eventually made it to our first check point. Ayul and the Canadians were of course applauding our efforts and snacking away on energy foods. To our surprise, after many hours into the hike, we found out that we were only about fifteen minutes behind our Canadian counterparts. The checkpoint was well received, as our legs were to the point of breaking, however, the break would be short, as we had to make the summit before noon. This of course was a personal goal we set for ourselves, to keep us motivated and moving.
With the last thirty percent of our climb left, we pushed forward at a slow but stubborn pace. We would find a point in the distance and would not stop until we reached it. Over and over again, a bush, a rock, would be our focal point as we pushed our tiring bodies uphill. At 11:43 a.m. we reached the top of "Dead Woman's Pass," greeted by cheers of other hikers praising the efforts of all. It was truly a magnificent sight, to stand at nearly 14,000 feet and look at the surrounding peaks and far into the valleys below, as we were in fact left breathless, but this time not because of the altitude.
After a nice and well-deserved break, not to mention a quick photo-op, we descended another two miles into our second base camp, where our porters were already hard at work. I do not know how this hike could ever occur without them, as I would not have the energy by the end of the day to set up a tent, little alone cook something. This camp offered ice-cold showers, which I happily took, screaming like a little girl as I washed the sweat off, and revived my body.