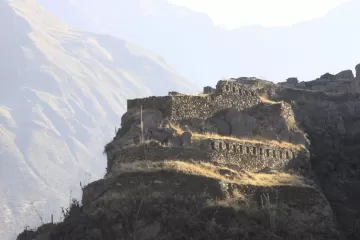 We awoke early and had our bags in the lobby by 7:00 a.m. The Canadians were already eating breakfast when we entered the lounge, so we quickly joined them and ate a delicious meal of eggs, fruit, and a pancake similar to a crepe. Ayul suddenly appeared out of thin air and with a blink of an eye we were at the Inca trailhead. Hikers and porters filled any available space packing and repacking gear, as vendors walked around selling last minute walking sticks and bandanas. We were smart enough to bring our own clothing for protection against the sun, but we ended up buying a couple of walking sticks from the little market in Ollantaytambo for five soles a piece. We usually don't use walking sticks when we hike, but from the great wisdom of our guide, we bought some and later became very grateful for their support, as we ascended mountains that touched the skies.
We would have nine porters and a cook joining us. Although this may seem excessive for only four tourists, it really isn't as they would carry most of the gear, including the food, camping and cooking equipment, and of course the bulk of our clothing for four days. Each porter would essentially carry forty-five pounds—and not an ounce more due to regulations—as I would carry only the daily essentials of water and snacks, weighing about fifteen pounds in all. Kelly carried the cameras was considered the paparazzi of the Inca trail.
I initially believed this would be a "luxury hike," considering Kelly and I are in decent shape and hike frequent enough, plus we wouldn't be carrying any gear. I would say my ignorance was bliss, but if it were not for porters I would still be stuck on that trail. As we begun the hike, Ayul assured us the first day was easy, however my lungs disagreed. I found myself in constant search of air as my heart pounded in deep rhythms inside my chest. The terrain lay before us in long stretches of soft dirt—later to turn into a cobbled stone path—blazed by hundreds of hikers a day, making an obvious route to follow which was accompanied by subtle inclines and picturesque landscapes. The hike itself was no more difficult than what I would normally do back home, but the altitude and my sea level physiology were at odds. It was like running at a dead sprint while trying to breath through a mouth full of cotton balls. I believe Kelly shared in my agony, however the Canadians exhibited the strength of an ox, and the endurance of a marathon runner.
We stopped at a small village to rest in the shade and eat energy foods and consume vast amounts of water. Ayul was impressed by the time we were all keeping, but I think he's just kind, and acting as our own personal cheerleader. Porters would fly passed us at a steady rate. Their packs—often bigger then they are—would not slow their pace, as they flew up the trail to set up the first base camp for so many hikers. The porters varied greatly from young to surprisingly older ages, but all exuded a common strength that I have never seen before. Not only would they hike and work all day to accommodate hiking tourists like myself, but they would do it with a smile on their face and a genuine good spirit that seemed to be encompassed by all the people of Peru.
By the time we arrived at the first base camp, Kelly and I immediately found our tent and collapsed in exhaustion. We later awoke to the porters serving cocoa tea and hot water to bathe our bodies, which were now layered in crystallized salt. I enjoy camping, but I also love being as clean as I can while doing it. The hot water was most welcome and refreshing, as was the cocoa tea. From our campsite you could see the next days hike, as we would be summiting "Dead Woman's Pass." Knowing how our first day went, Kelly and I were both intimidated by what awaited for us tomorrow. The pass was extremely high—sitting between two monstrous peaks—and what appeared to be a distance beyond our grasp.
Later, we were served with an amazing three-course Peruvian cuisine, where we found our appetites. Ayul entertained us with jokes and stories until we all fell too tired to stay awake, where we made our way to our sleeping bags. Zipping up our rain covers, we all drifted off into a deep slumber as we joined in the accompaniment of snores emanating from our synthetic housing.