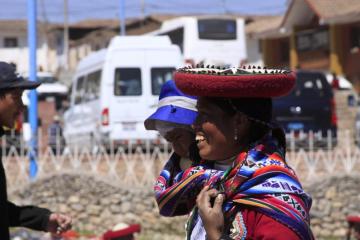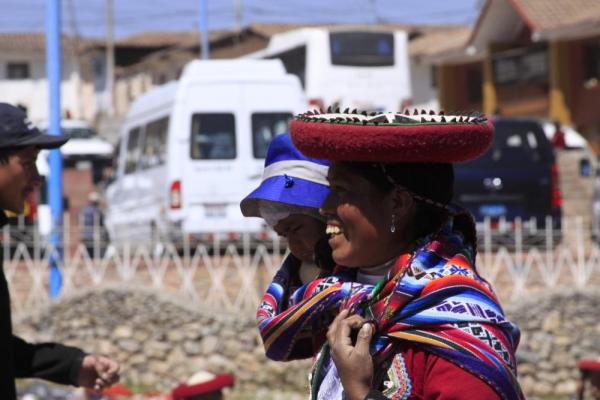 Leaving Cusco, it took us nearly five hours to reach the small town of Ollantaytambo, which would be our last hotel stay before our four-day hike up the Inca trail to famous ruins of Machu Picchu. We took many side trips before arriving at our hotel, visiting communities engaged in the ancient art of textile production, Peruvian salt mines, and the sweeping terrains of the Sacred Valley.
Visiting a community, dedicated to the historical art of textiles, we were fully engulfed within their welcoming embrace. Sipping on cocoa tea—now a favorite of mine—we were shown demonstrations of how complex this craft truly is. From dying the alpaca wool with natural herbs, berries, and vegetation, to the creation of clothing, blankets, hats, among many other articles, this craft has not changed in its design or production since before the colonization of Europeans. The designs and quality of their products were all handcrafted, and second to none, as was their hospitality.
As we continued down the road, passing beautiful farming terraces outlined by colossal mountain backdrops, we twisted our way along a winding dirt road with precipitous drop offs. Soon we came upon a vast ravine of miniature bodies of water surrounded by a white powdering that shimmered in the afternoon sun. As we stepped out of our van, we were amazed to see this was in fact a salt mine, farmed by families on a yearly basis, and passed down through generations. The small pools of water were fed from a stream coming from a massive salt deposit within the hillside. The water would eventually evaporate away leaving behind mass quantities of salt, which would then be harvested by families and sold to make up a large part of their yearly income. We dipped our fingers into the salty stream and tasted it for ourselves, and then quickly decided it was enough to turn your face inside out. One tourist was foolish enough to put his whole hand in, which I'm sure he regretted later.
Our next stop was the flowing landscapes of the Sacred Valley. Sitting around 12,000 feet we found ourselves short of breath but eager to see everything. By this time our dizzy spells had vanished, as I reluctantly began taking Diamox. The Sacred Valley was gorgeous with its Spanish architecture, and ancient farming terraces that filled the hillsides off into the horizon. The stone architecture was again astounding, lasting centuries and remaining in remarkable condition. We climbed all over the terraces and staircases, seeking the best portrait shots we would later hang on our wall at home. Surprisingly we saw a futball (soccer) game in the process as we descended back to our awaiting ride. How they could play such an intense game at this altitude was beyond me, as I huffed and puffed my way down a set of stairs.
After arriving in town and checking into our hostel "El Sauce," we climbed and explored the near ruins and local surroundings. Quaint and full of character, I would say that this town is so far my favorite. The local people again demonstrate their kindness and charm in simple interactions as we pass, or look into shops. Ayul gave us the great pleasure of visiting with a local family, and seeing how indigenous people live today. Their house was made of stone and rock, and consisted of only one room, which they transformed for daily use. The floor was earth, and various decorations hung from the wall with their vibrant colors, warming the environment to a comforting reception. I had a hard time comparing my life with theirs, due to the obvious differences. I have grown accustomed to and nearly dependent on modern Western conveniences, where they have none. However, shown in their eyes and smiles they appear more happy and content than many I've seen back home in the states. My respect for these people has grown immensely by their attitudes and convictions in life.
In the evening, Ayul went over the agenda of the hike, a sort of pre-meeting before our ascent into the Andes. I felt as though I were a member of an expedition team going to climb Mt. Everest, entering an unknown and exotic world. I could barely contain my excitement, and looking around to my wife and the Canadians, it seemed the rest of the group shared in this exhilaration as well.