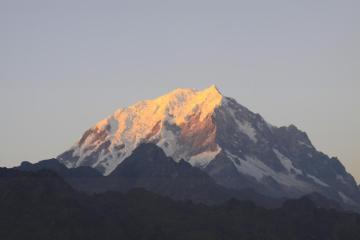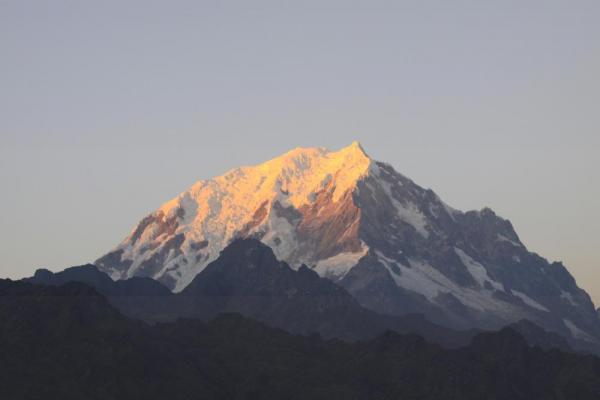 Already missing the synthetic housing I called home on the trail, I awoke in the comforts of a soft bed and hot shower. The pleasures of modern conveniences were all there, however lacked the ambiance and the greatness of the outdoors. Breakfast was of course a large spread, offering anything you could ever desire and more. We met up with our Canadian friends over a croissant and a cocoa tea, and then reflected back with stories of our trek through the Andes wilderness and the times we shared.
Ayul met us out front of our hotel early in the morning, where we then took a bus back up to Machu Picchu. As we wound our way up the steep incline of the mountain, the sun began to break apart the thick canvass made of clouds. I willed the bus to go faster and to reach the top soon. As any photographer could tell you, clouds—especially broken up clouds—can make great texture in a picture, especially if that picture was Machu Picchu. As we reached the top, I asked Ayul if it would be all right to go to the top and take pictures first, while the morning light was still good. With his nod in agreement, I shot up the mountain's trail as fast as my legs could carry me, knowing they would be sore after four long days of hiking.
Fire instantly shot through my lower extremities. I tried to ignore the temporary pain, as I knew the sunlight would change with every passing second, and if I wanted my epic shot of Machu Picchu I would have to hurry. Just as I reached the ancient farming terrace where I would take my picture, the sun appeared from behind the clouds with amazing beams of light, which lit up the ancient ruins in streaks of gold and yellow. Snapping away as fast as I could, changing angles, framing, and exposure often as the light shifted, I found my shot. The picture I had envisioned from before ever arriving in Peru, the one I held in my head, anticipating the moment I would be here in this location, came alive before me. My heart was full of content, as my lungs filled with the air of my surroundings. I clicked the button on my camera, releasing the shutter and forever imposing the image of Machu Picchu on my memory card.
After my paparazzi moment overlooking Machu Picchu was over, we started down into the city. However, my paparazzi moment had only shifted, as I became the stereotypical tourist, snapping pictures away of everything I could fill my lens with.
It was all so very enchanting, as we wandered among the ancient ruins, knowing full well that we were walking in the same footsteps of the people who came before us, who built and lived in this amazing city so long ago. As Ayul dove into the history, architecture, and custom that held its meaning in the walls that now towered around us, you felt a sense of privilege of being here, a privilege for experiencing history in such an intimate way. We wondered the city for hours, walking up and down long hallways, curving stairs, and climbing to the top of sacred structures. It was a world far foreign to my own, and I loved it all the more.
We eventually left Machu Picchu and all its wonder—however I do not think the impression it made on us will ever leave—as we took a train back to Ollantaytambo, then a van to Cusco. We went to dinner, where we ate the local delicacy Cuy (guinea pig), then made our way back to the hotel where we said our goodbyes to Ayul and our Canadian friends. We were all strangers when we first met in that hotel lobby in Cusco, but it was now like saying goodbye to some of my dearest friends or family members. We shared much more than an adventure together, we shared a new chapter in our lives with one another, as our worlds grew a little more from this awesome experience.