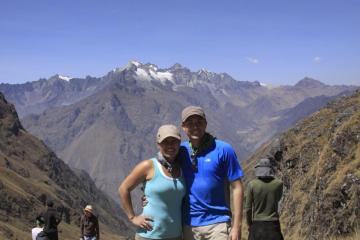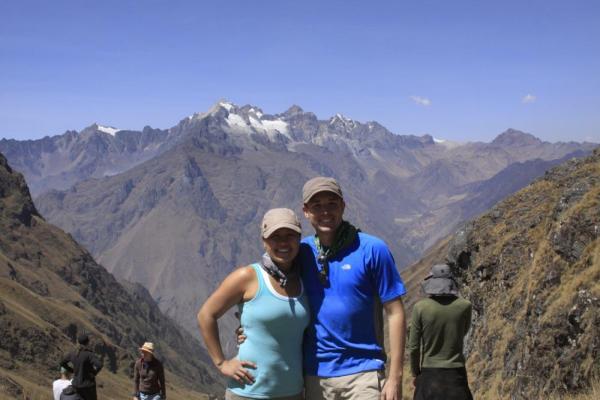 Although the temperatures dropped to below freezing last night, Kelly and I were bundled away in our sleeping bags, like caterpillars within their cocoons. However, instead of emerging as butterflies, we would appear in our gray thermals and brightly colored alpaca hats. The stocking cap I brought from home wasn't nearly as warm as the local wear, so I decided when in Peru do what the Peruvians do, wear alpaca.
We awoke before sunrise, so we could see the sun come from over the darkened peaks and fill the valley with its basking glow. Standing atop the highest point in the campsite, sipping cocoa tea—which I'm pretty much addicted to by this point—we could see three hundred and sixty degrees all around us and everything that light may touch. When the sun first peaked over the ridges, and gave life to the world, you knew in that moment everything the Andes had to offer. Words could not describe the feeling and beauty that moment created, and for as long as I live, I will never forget it.
After breakfast our porters packed all the gear and left us to finish our voyage. Words and speeches were made of gratitude and appreciation, and "Gosh papa's," all around, as we shook hands, and took group photos. They were an amazing group that made our trip possible, and I will always be grateful for their good nature, and the hard work they demonstrated every day.
We were all in high spirits and feeling the best we've ever felt since arriving in Peru. The rest of our trip would be a steady descent into Machu Picchu. Breathing was easy and the hike was full of nature as the thick forest became alive. Birds flew about, including very large humming birds and the occasional parrot, but what was more interesting were the butterflies, or just the sheer quantity of them. Sometimes a few would flutter about, but then suddenly there would be swarms of them in a playful frenzy. Ayul described one butterfly that was extremely large in size, which also changed colors in the sunlight. I don't think any of use believed him initially, writing it off as a joke we didn't get, until we ran into one. It was a creature straight out of a fairytale that came to life before our very eyes. Transfixed by its beauty, we all stared dumbfounded. It's wings would shifts in colors from a bright yellow to a light violet as they flapped in the shafts of light penetrating the canopy, giving off an almost fairy dust illusion. After if flew off, we only saw one more of its kind, a sort of unicorn of the butterfly world.
The hike went by quickly as we were comforted by the forests cool shade, and natural scenery. Ayul had quickly ascended a steep set of stone stairs, where I yelled up at him, "You lied Ayul, you said it was all down hill." Where he promptly replied, "piece of cake, this is small, no problem." With one foot over the other, we pulled ourselves up a very intimidating incline, where reaching the top, Ayul then looked at me and said, "you made it, we're here." A little in shock that we were at the end, I rounded a stone pillar as the forest opened its embrace to the spectacle of Machu Picchu. It was an amazing sight. To hike twenty-five miles and reach a monument of such scale and beauty was more than rewarding, it was a gift on the largest of scales. We all could do nothing but look down at our prize, amazed by our efforts and a little sad to see our journey come to an end.
We hiked down the rest of the way to Machu Picchu, took some pictures and quickly took a bus to our hotel for a hot shower, knowing full well we would return tomorrow rested, and ready to explore the ancient ruins in greater detail.