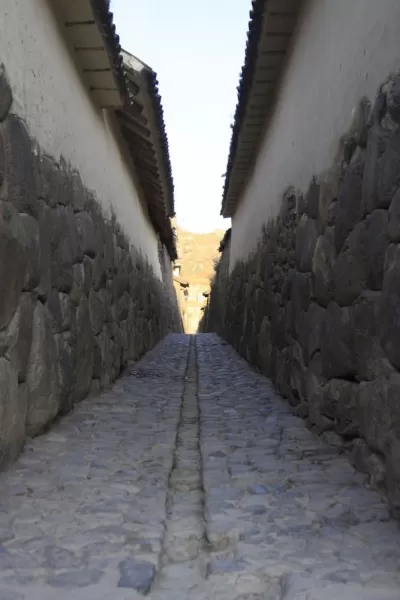 We awoke early to a nice continental breakfast supplied by the hotel staff, spread out before us of varying treats, breads, meats, and poultry products. I had a cup of the local coffee, which poured out in a consistency comparable to molasses. I usually make a thick cup of cowboy-coffee myself when I go camping, but this brew put all to shame. Making it only halfway through the cup, I switched to cocoa tea, a local favorite brewed from native leaves. It is said to help with altitude sickness, contain numerous vitamins, and essentially cure the world of disease. However, I am unsure of the tea's actual potency and magical remedies, but one thing I can say, "this is one fantastic cup of tea!" The flavor is smooth and inviting, filling you with warmth and energy that does not leave you in the usual rollercoaster of energy spikes and pitfalls, as does its caffeine counterpart.
After our fill, we made our way to the hotel lounge where we would meet Ayul and two Canadians that would be joining us on our adventure through the Peruvian unknown. Their accent and pleasant demeanor reminded me of my time up north, and with Ayul filling the air with his witty banter, it was truly an interesting meeting of cultures from the Americas.
Ayul took us to several markets, where working our way through crowded walkways, we bartered for the latest wear in alpaca. We struck an amazing bargain on alpaca hand-knitted hats, costing only six soles a piece (only about $2 U.S.). Instantly, we started sorting through the stacks of varying color combinations, planning out early Christmas presents. It was like sifting through clouds, due to the lightness and spongy softness of the alpaca fur. By the end, we figured all extended family would now have warm heads during winter in their very own Peruvian cap.
Walking by a school, we were fortunate to see a group of children practicing a traditional dance. They would make large movements with their hands and feet, all matched with passionate facial expressions for each motion. Many possessed wooden dowels, which they swung about as if they were extensions of their own body, moving in rhythm to a single drum. For a moment you would be caught in their energy and absorbed by their exhibition.
We then visited several museums, exploring into the history of the Quechua people and their culture. Never have I visited museums where one could be so close to artifacts dating back so many centuries, and the only thing separating them from you is a simple pane of glass. The ruins Ayul took us to next were at the peak of the surrounding hills of Cusco, which we kept referring to as "sexy woman." The Quechua name for these ruins was hard to pronounce and sounding very similar to "sexy woman," we all decided this was easier. What was amazing about these ruins is just the sheer size of the boulders they built with. Ranging into the thousands of pounds and towering over an individual with ease, somehow the Inca (king), and the Quechua people constructed long massive walls, intricately designed to fit and slide together into a single locking unit. Quite impressive, as the architects would have to think in terms of three-dimensional space, whereas I have troubles with just putting cardboard puzzle pieces together. From this standpoint you were also able to see all of Cusco spread out before you. A spectacle of rustic rooftops opened up into the distance, as a single hillside with giant letters displayed proudly to the world "Vive el Peru."