Well, all things considered we slept pretty well last night. It was not too cold when we went to bed. I slept in a long underwear top and bottom with a sleeveless fleece and socks. I put some of tomorrow's clothes in the sleeping bag with me so they would be bearable to put on in the morning.

In the night we heard barking dogs a few times and toward morning the chickens were right outside our tent, rooster crowing. I dressed inside the sleeping bag as much as I could. The porters brought tea and bowls of hot water to the tent. We weren't going to compound the difficulties of our hike today by going way downhill to the bathroom and struggling back up again, so we found a nearby bush. Vidal told us that when Peruvians use a bush they say they're going to send a message to the president, meaning George Bush.

For breakfast we had sweetened quinoa, which is like cream of wheat, served with fruit, homemade granola, and toasted local bread. So after breakfast it was time - the dreaded second day hike begins!

The hike was continuously uphill with almost no level ground. Sometimes it was modestly steep and for long stretches it was punishingly steep. When we started out at 7:10 AM it was the least steep portion of the day, and we were lulled into a false sense of security. So we were pushing along, feeling like we'd be OK. I was reluctant to take a long rest break, so we would walk slow steps until I got out of breath, stop for a few seconds, and then do it over again. It was hard, but I was making progress.

Then we came to a long (long, long) section where was extremely steep, so much so that in earlier days the Incas had built steps here instead of just a pathway. The steps were generally a little long for my legs and my calves were burning with lactic acid due to the lack of oxygen. We would climbed all the steps in view, then turn the corner hoping to see level ground, only to find another row of steps. I actually think that was the hardest point. There was one guy who was feeling very ill. I was relieved to see the end of those steps.

Shortly after that section we came to a more open area at the foot of a valley. We found some women selling soda and candy and there were lots of trekkers resting and eating. This was our first real rest stop. We enjoyed the opportunity to sit on a rock and eat some snacks. There were also some flush toilets here. We rested and at 10:30 we continued uphill.

We followed a path that goes up one side of this valley and you can see at the end of the path there is a U-shaped cut in the ridge that is Dead Woman's Pass. The pass is at almost 14,000 feet in elevation and we had started the day at 10,000 feet. Once I could see the pass I thought we would get there pretty quickly but that was really over-optimism. As we got higher we would take 10 steps and stop, 10 steps and stop. We saw the same people over and over as we passed them, then we rested and they passed us again, and so forth. It was encouraging to see that our pace was similar to that of many others. It was easier to proceed when you could see the goal (the pass). It was sunny almost all morning, although it clouded up and a few drops of rain fell just before noon, but not enough to cause us to put on rain gear. Finally, we arrived at the pass. SUCCESS!! [look in the album to see the picture of me celebrating my rrival at the pass]

That walk was really, really hard. Steve was already waiting up at the pass, having practically run up. We
got to the top at 12:10, five hours after we left camp.

We took a brief moment to celebrate, then started down the other side of the pass. Once over the top it was cold and windy, but a ten-minute walk brought us to the dining tent. We went in and gratefully sat down. At first I felt like I couldn't eat - maybe because of the altitude or the exertion, but I was able to have some of the good soup, chicken, and french fries.

While we were eating it began to rain, so we put our new rain ponchos and set off. We stopped at an outhouse near the rest stop, and then continued down the hill. I told Bob that he looked like a giant garbage bag in his black plastic poncho and I looked like a giant bag of medical waste in my reddish-orange poncho. The ponchos proved to be so unwieldy that we took them off again.

Since we were coming down from our high point, the hiking was all downhill after lunchtime, and as it was lightly raining the stone pathway was wet and slippery and walking was tough. About 1 1/2 hours after the lunch stop we got to camp. The rain made it more challenging to settle ourselves in the tent, but we managed to set up our belongings and actually took a brief nap.

At 4:30 Vidal called us for a snack of popcorn, homemade potato chips, and cookies. When we emerged from the tent we found that it had stopped raining and you could even see a glimmer of blue sky. We lingered at the table until dinner. Bob, Steve and Vidal played a version of 20 questions. Interestingly enough, the subjects chosen for the twenty questions game prove that Monica Lewinsky is even known in Peru. Dinner started with soup (of course) and included a chicken dish with rice and Jell-O for dessert. Then we struggled downhill to the bathrooms and back up to bed.

And we have survived the dreaded day two!
Want to Go?
destination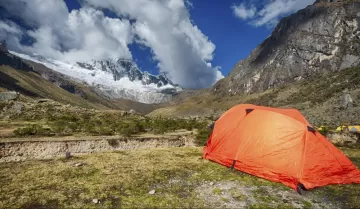 10 Day Tour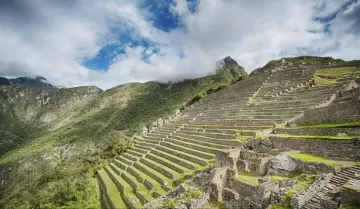 9 Day Tour