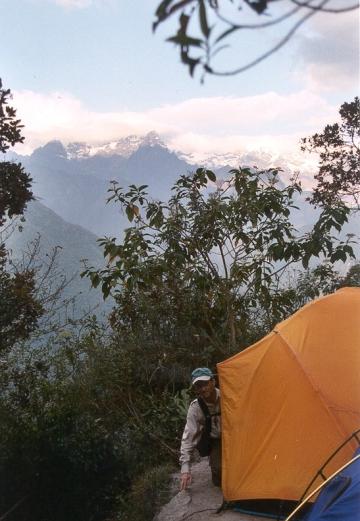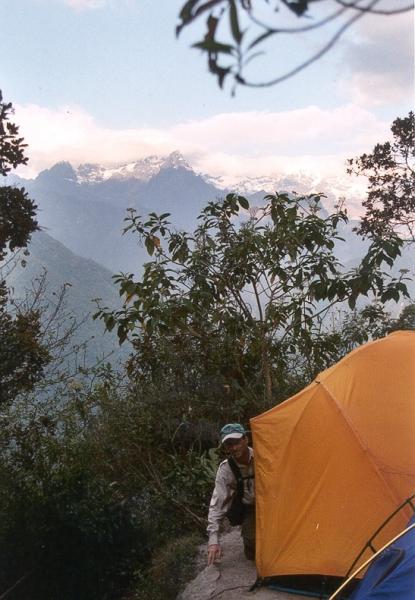 We woke up at six this morning to get ready for our excursion. Breakfast at the hotel was good, with fruit, cereal, breads, and eggs cooked to request. Then we went outside the hotel where bicycle taxis looking like tricycles with a two-person passenger seat in the front were waiting to pick us up.
We were biked down to the docks. On the way, a minor disaster happened when the video camera fell apart. We were incredibly lucky that none of the pieces fell through the slots on the floor of the bicycle taxi, but we were uncertain if we could get it back together again.
We stopped at the market by the docks and picked up some gifts to take to our host family on the island where we will stay. Two full bags of groceries and a few toys came to $10 and we split the cost.
Next we got on a motorboat and drove off for our first stop on the floating islands. During the boat ride of about one hour, Bob managed to get the camera together with the help of some tape from the boat's first aid kit. He finished the repair just in time, as we arrived at the floating island.
The islands were inhabited by the Uros people. These people had lived on the lake shore but were driven offshore by the invasion of another tribe, so they made these islands of reeds, many feet thick, and built reed houses on them. The islands are anchored in place by rope, but can be untied and moved. Now they are pushed by motorboat but in the they were past moved with long poles. The older parts of the island are more stable, but the newer parts roll like a waterbed. The islands rot from underneath and more reeds are placed on top. The families fish and kill birds. They keep domestic birds like cormorants and heron as well as a type of chicken. Tourism is now a means of income. In the past, both the men and women had to go out to fish, leaving the children to watch the island and cook. If the children didn't set the rocks under the cooking fire carefully enough, there were times when they set the entire island on fire. Now children are rarely left unsupervised since the women stay on the island during the day to sell handicrafts to tourists. [see the pisture of me with two local ladies selling handicrafts in the album that accompanies this journal]
On the first island where we stopped the people were friendly and the children were adorable. One man gestured for me to look inside his one-room house. There was a solar cell outside and he proudly showed me the electric switch that lights one tiny bulb and a portable TV that, he explained, receives two channels, operating for only a few hours in the afternoon. A small bird startled me by walking out of the house as I stood in the doorway. We bought a few things and I played with some of the children, who were really cute.
We rode in a reed boat to a second floating island. We spent just a little time here, but a small, very serious boy approached me with some pictures he had colored in school that he was trying to sell for about $.60. Kids begin to work at a really young age. I'm a sucker for the kids, so I asked him to pick the best one for me, and got him to sign it. When I asked him how old he was he said eight years. He looked a lot younger than that, but who knows?
Now we're on our motorboat again for the three-hour ride to the island where will spend the night. One worrisome moment occurred when the motor stopped. When the driver opened the motor compartment, smoke came out. He worked on it a while, doing something that included the use of lake water, and luckily we were underway again fairly quickly. Now I'm writing in the diary, some people are sunning on deck, some are playing cards and Bob is resting. He has a headache despite taking Advil, drinking coca tea at breakfast, and taking Excedrin and aspirin. I hope that something works for him soon.
We arrived at the island of Amantani, and what a fantastic place it is. It's not a huge island, and it is completely terraced, as it is very steep and mountainous with the lowest point, lake level, at about 12,500 feet.
When we pulled into the dock, there were a few men but mostly women waiting to meet us. The women each wore a very full black skirt, about knee length, a white embroidered blouse and an embroidered black shawl, draped over the head and then thrown over the shoulders to trail down the back. Many were carrying knitting needles and wool, and were knitting as they waited or walked.
As our boat approached the island, our guide ran through a few phrases in Quechua for us. It's a difficult language and luckily most people to speak Spanish, although that is a second language and they may not be completely fluent in it.
Our guide, Vidal, the other guy on our trip, Steve, and Bob and I were assigned to a woman named Luisa, who walked us slowly up to her home. Even though she went slowly, the steep terrain was a killer because of the altitude. Her house is actually nice-a small front yard with lots of flowers but no grass. The building housing the kitchen was to the right. If you went straight it took you through a doorway into a courtyard of small black and white stones forming designs. There are two floors in the buildings around a courtyard. The first floor is for the family and a second floor is for guests. Our room on the second floor had a rough wood floor and burlap tacked on the ceiling. The walls were painted pink. It had three single beds and a small table with chairs. It was clean and pleasant, with no electricity and no heat. Some years ago the island was wired for electricity and a generator was built, but the 4000 residents of the island couldn't afford to pay the fee of 12 soles (less than four dollars) per month per person that it would cost to run to generator, so the electricity never works. It was chilly even at midday, and at night the temperature can drop below freezing.
We were called to the kitchen, since Luisa was preparing lunch. [see the picture of Luisa of Luisa cooking in the album that accompanies this journal] She cooks over an open fire with iron pots and pans. We met her husband, Antonio, her daughters Lourdes (age 13) and Maria Elena (about 11) and her son Juan Carlos, who is about 8. She has an older daughter who is married and lives elsewhere in the village. Everyone was eager to be friendly and talk.
For lunch we ate a bowl of potato soup, then fried kingfish, with various kinds of potatoes. Potatoes are the staple crop here, and the locals eat them three times the day. We ended the meal with tea made of boiling water stirred with some sprigs of a local plant.
During and after the meal, we all asked questions. Mostly Vidal spoke Quechua with the family and translated for us, and sometimes I spoke Spanish with them. Antonio told us that he and Luisa have been married for 22 years. When we asked who married them, he said their parents did. The parents announced the intention of their children to marry, and organized a party. The bride and groom stood up and said they were marrying, the village celebrated, and that meant they were married.
After the late lunch we hung around the kitchen talking. I had brought pictures from home and showed them to our hosts. They were most interested in pictures of our family, pictures of us by Lake George (I think they could relate to the lake) and our wedding picture. We also paid a visit to their guinea pigs, kept in a pen outside to be used as food on special occasions like birthdays or holidays. They had five.
We sorted out our backpacks and a little after 3:30 PM we came downstairs. Our hosts lent us local knit caps to wear that evening, as it was getting quite cold. Maria Elena walked us up the hill to the village soccer field. Again, it was really hard to get up the hill! At the fields a soccer game was in progress, visitors versus locals, where a few brave visitors agreed to compete. The locals won the match, needless to say, as the visitors gasped for breath after each play.
After the soccer game, our guide walked us up to the top of the hill behind our village, one of two high points on the island. To be frank, when we arrived and the guide pointed it out and said we were going to go there, I didn't think I could do it. Going uphill at all at this elevation is unimaginably difficult and we are not much acclimatized. But we started out, watching the girls tend their sheep, seeing the sun setting over terraced fields, listening to boys playing Andean pipes and drums, and looking across the water to the snow-covered mountains on the Bolivian side of the lake. The beauty and peace almost make you forget the climbing - but not quite. This is much harder then running two and half miles at home! But we continued on and as we neared the top we saw local women who had carried up water, soda, candy, and various knitted goods for sale to the tourists. I really couldn't focus on the knitting, just on putting one foot in front of the other, but Bob did stop and buy some chocolate candy and I managed to eat some (no surprise).
We stopped at some pre-Inca ruins at the top, which were quite impressive. There were some clouds around the horizon and the wind was blowing so we didn't wait for full sunset, but started down. Still, it was getting dark as we returned to the soccer field.
Because of the terracing and the lack of true roads, the village layout was confusing, but someone guided us part way back to Luisa's house. We found the rest of the way ourselves, arriving after dark, and went straight to the kitchen to warm up because that's the only room with a fire. Lourdes and Maria Elena were preparing dinner by the light of the fire and a single candle when we came in.
Again, Lourdes was eager to talk. She goes to the only high school on the island, in a village on the other side of the island. Each day she walks one hour to get to school and one hour back home again.
By 7 PM we had dinner - potato and pasta soup and a dish with the rice on one side and various types of cut potatoes in a white sauce on the other side, then the same herb tea we had at lunch.
After dinner I almost managed to lock myself in the outhouse! I squeezed out, but someone had to fix the door so it would open freely again.
Next Lourdes came to our room and helped us dress in local clothing. Bob wore a poncho and a hat, and I wore one of Luisa's skirts, one of her embroidered blouses and the shawl that drapes over your head. I could not keep that shawl on my head for even two minutes, so I ended up wearing it draped over my shoulders.
Then Maria Elena walked us a short distance downhill to the local dance hall. Here there were two bands playing Andean instruments and music, and a man sitting at a card table selling bottles of water, soda, and other drinks. All the guests staying in town were there, along with their host families. Luisa showed up just a little while after Maria Elena had brought us there. The hall was dimly lit, since there was no electricity, but the bands began to take turns playing with enthusiasm. Maria Elena asked Steve to dance; Luisa asked Bob, and our guide Vidal danced with me. Each song went on for a long time, and the dances were very energetic.
The Amantani ladies seemed to have an inexhaustible love for dancing, and at 12,500 feet I couldn't begin to keep up. I don't know which was harder, climbing the mountain or dancing! The local dances were fairly easy to learn. One included a long line of people holding hands and snaking around the room. I danced with Luisa, with Bob, with Vidal, with another guide, and with some people I didn't even know. It was a great party, and we danced until we were ready to drop! Then Luisa and Maria Elena walked us home at about 10:00 PM.
We were so hot from dancing that the room didn't even feel cold. We got ready for bed by candlelight and hopped under the covers.