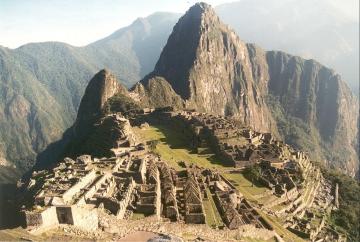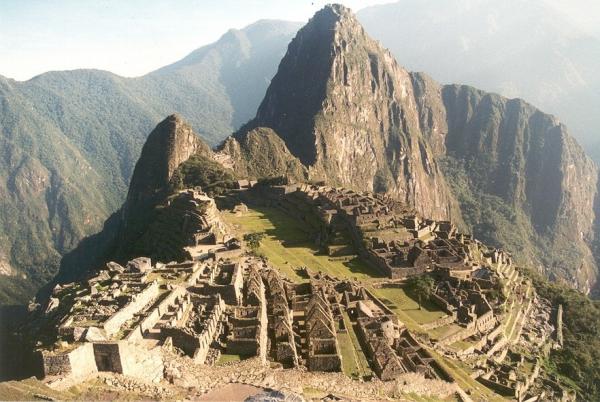 This morning we woke up early, and we grabbed our clothes and stuffed them under the covers to get them warm so that we wouldn't freeze later getting dressed. We finally got up around sunrise, got dressed and threw on enough outerwear to get to the outhouse. Antonio brought a bucket of (ice cold) water to our door to wash up, and then we went down to the kitchen for breakfast. We had one small pancake (like a crepe) and a triangular piece of bread. An almost empty plastic cup of jelly was offered, but I hesitated to use too much of it because it seemed like a rare resource for the family.
Luisa was cooking breakfast wearing an aqua sweater and an orange skirt, with aqua showing underneath. She cooked potato soup for her family for breakfast, and when she was done cooking she took off the orange skirt, which was dirty from cooking. Under it
she was wearing an aqua skirt just like the orange one. We realized that the orange skirt was acting as an apron. You can also see that the women wear multiple skirts for warmth. I can tell you from wearing one last night that the heavy skirts are surprisingly warm, although wearing them with bare legs as all the women do would be too cold for me in the climate here on the island.
After breakfast Luisa, who had now changed into her good black and white outfit, came to walk us back to the dock. A small sailboat was at the shoreline loaded with firewood to sell to local women. We were sad to say goodbye to Luisa and her family.
Our boat was waiting at the dock to take us on a 45-minute ride to Taquile, a nearby island. People live a very rustic lifestyle here, with their own unique traditions. We hiked uphill and around the island to the center of the main village. The views were beautiful. Women here often wear hot pink or lime green tops and shawls with very large pom-poms instead of the embroidery we saw on Amantani. The men walk around constantly knitting. They wear caps that they have knitted themselves, all red if they are married and red and white if they are single. The hats are floppy stocking caps and grown man tend to wear the tail of the hat hanging to the back, while teenagers where it hanging to the side - kind of like teenagers at home with their baseball caps on backwards. When a man here marries, his wife cuts her hair and he weaves it into a belt that he wears from then on.
We saw the town square and the local market. Women from the nearby mainland also come here to sell things. You can recognize them by their flat square hats with pom-poms on them. We bought the local version of popcorn, bigger kernels than at home and slightly sweet, from an old lady in the market. A bag was $.30. A young girl was wandering around, seemingly on her own, and we gave her some of the popcorn although she didn't beg from us.
After visiting the market we walked uphill to a pleasant little restaurant where Bob and I each had an omelet, then walked steeply downhill to the boat. On the way we passed people going steeply up, including a local woman with some children and two small lambs, one of which she picked up and carried, and a man leading two giant bulls (we got out of his way!) as well as numerous man and women carrying heavy sacks.
Our boat left Taquile, and we hadn't gotten too far before we realized that we had forgotten Steve, so we went back for him, then started out again on our three-hour ride to Puno. I used the time to catch up on the journal.
We arrived back at our hotel in Puno, the Qelqatani, a little after 4 PM. It felt great to get a hot shower. We went to dinner at a restaurant that had three pots resembling chimineas with blazing open fires placed around the room for warmth. The food was good, even the alpaca that Bob ate. Vendors are prevalent on the pedestrian walkway outside. They can't come in to the restaurant, but kept coming to the door and waving their goods. One vendor was determined to get Steve to buy a sweater, but he didn't succumb. After dinner we walked around for a while and even shopped a little, then went to bed.