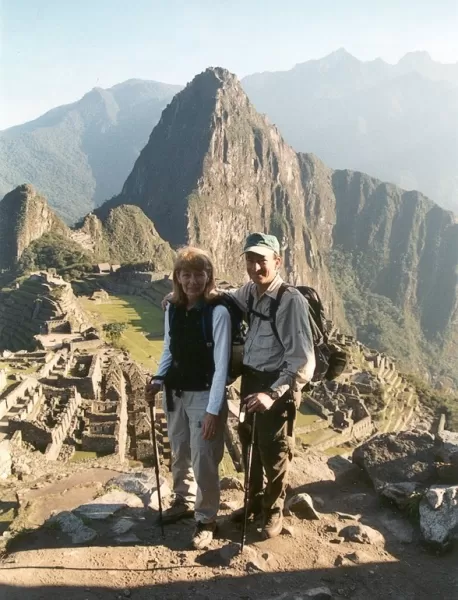 Bob actually woke without his headache this morning. Maybe we're getting used to the altitude. I never thought I would long for humidity, but my hair is full of static and my nose bleeds because at these elevations the air is so dry.
A bus came to pick us up for the ride to Cuzco. Our guide had bought us tickets through a local tourist service. There are about 15 people on the bus. It is a long drive, partly because some stretches of road are very bad, but there have been several stops planned to break up the drive.
The altiplano of southern Peru is a very striking landscape. We are on the only real road in this part of the country. Occasionally we pass through a village full of bustle, stands for selling, people in bicycle taxis, etc. The vast majority of people wear local dress, although you do see a few people in their twenties wearing modern clothes, but they are the exception and tend to stand out.
Our first stop was in a town called Pukara, where there is a very small museum of stone carvings and ceramics from some pre-Inca people. The town has only small one or two room homes but incongruously there is a large Spanish colonial church here, now crumbling around the edges but still looking far too grand for its surroundings.
When getting back on the bus in Pukara we saw a young boy of five or so with a brilliant smile and black growths all over his hands and face. Yesterday at the market in Taquile we saw a boy of about two with terribly crossed eyes. Obviously there are problems here.
Our next stop on the bus ride was Las Rayas, a high pass along the road. The pass was 4385 meters or 14,381 feet. There were beautiful snow-covered mountains and distinctive people with colorful goods to sell.
After the pass we continued a short distance to the spot where we had a very nice buffet lunch with fresh vegetables and dishes like lentils, chicken in peanut sauce, some type of meat ball, fried sweet potatoes, breaded fried quinoa (a local grain), and the ubiquitous flan for dessert. The restaurant had three star banos (bathrooms) and even supplied toilet paper.
We looked at goods sold by vendors on the restaurant grounds and even bought a clay ocarina (a musical instrument) for 60 cents.
In a short distance we came to some Inca ruins called Raqchi. The ruins included a large temple to which people made pilgrimages, a plaza, many homes, and 365 storage buildings. The organization of the Incan layout actually compared favorably with that of the village dating from Spanish colonial times that it is adjacent to.
On the road again, we made one last stopped at a Spanish chapel. It was incredibly ornate, with geometric ceilings and heavy gold leaf frames around gigantic canvases that circle the room near ceiling level. Evidently the Catholic Church invested in hugely impressive chapels that overwhelmed their surroundings in order to awe and impress the locals and thus facilitate conversion.
We then drove the final leg on our journey to Cuzco. Along the way a sudden drenching downpour broke out, even though the sun was shining. In fact, we saw a gorgeous rainbow that came all the way down to the ground in front of the mountains. What a welcome to Cuzco! We arrived in the town at around 5 PM. Even though the trip took all day, it really flew by. I thought the long drive would be tough, but the frequent interesting stops and fascinating scenery made it seem short.
Our hotel in Cuzco is El Balcon. It is on a hill a short walk away from the main part of town but quieter and with a great view. It is more rustic than the hotel in Puno, but certainly acceptable. The hotel itself is a renovated building dating from the 1630s. We spent about an hour unpacking some essentials (we'll be here two nights) and reorganizing our things yet again. Then we met in the lobby of the hotel and walked down to the Plaza de Armas, the main square in Cuzco.
It was dark, and the two magnificent churches on the square were lit, giving a really striking effect. The square is large and open, with shops on the two sides of the square not occupied by the cathedrals.
We exited the square and walked to a restaurant on the second floor. We sat at a table in the window alcove, and had a really nice dinner.
Finally we came back to the hotel. On the walk back we noticed the Spanish colonial architecture all around, but Vidal had pointed out to us that many of the buildings had been built on Inca foundations. In fact some present paved roads have been built on old Inca pathways.
After dinner we walked back up the hill to the hotel tailed by children wanting to sell us postcards or shine our shoes. Cuzco is at a lower altitude than Puno, 10,900 feet as compared to 12,500 feet, and I felt as if I could run up the hill!