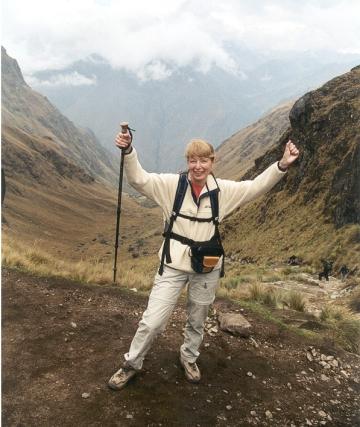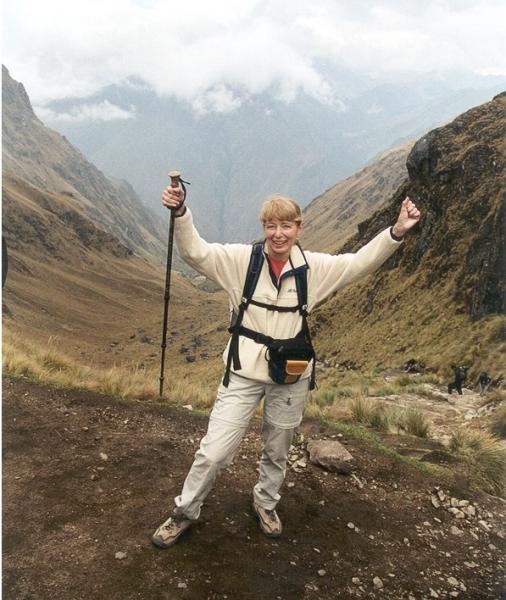 I was reluctant to get out from under the covers this morning. We had warmed up our little sleeping nest, but the room was cold! Luckily, hot water was available for a warming shower. We dressed quickly, did a little repacking, and walked to the breakfast room. We kept putting on more layers of clothes. The temperature is probably in the fifties, but it is overcast and damp, making it feel even colder. Local people have on what I would consider winter coats. Since the rooms are unheated, you don't ever get really warm. A priest in the breakfast room with us was wearing a long woolen priestly robe and a parka.
When it was time to leave the hotel for the airport at 9:30 AM we met the one other person who was on our tour. His name is Steve and he comes from Seattle. He's probably in his thirties and very tall. He told us that he climbed Mount Rainier in 1994, so we are very intimidated about our ability to keep up with him while hiking.
Only ticketed passengers are allowed in the airport, so our driver had to drop us at the door, but we checked in and paid our airport tax with no trouble. We even found a Dunkin' Donuts in the airport!
From here on the rest of the day was quite fascinating. On the plane we flew from Lima to Arequipa, over a very striking dry and rugged landscape with snowcapped volcanoes. We even saw steam coming out of one volcano.
We landed briefly in Arequipa, where most people left the plane, then continued on that very short flight to Juliaca. This is the closest airport to Puno, our destination for the day. Elecio, who was going to guide us on our trip to Puno, met us at Juliaca. Elecio is a Puno native, with a good command of English and lots of energy. He helped us to find a local lunch place at Steve's request, since lunch served on the plane was barely a snack. We got a fixed price lunch of a breaded baked sweet potato with cheese, a huge bowl of vegetable soup, and a thin piece of meat with the rice and vegetables. Steve got one meal and Bob and I shared one. The cost of this meal was five soles or about $1.50!
We walked to the main plaza in Juliaca, then left for Sillustani, a site with some Inca and pre-Inca burials. To get there, we turned onto a gravel road. Just where we turned, an older local woman put her arm out for a ride. We had lots of room in our van, so we stopped to pick her up, as the next village down the road was a long distance away. Our guide guessed her age to be about 60 to 65, though her face was incredibly wizened, probably from exposure to the elements. She was dressed in a full skirt and had a small hat perched on her head. She carried a colorful blanket wrapped around some things that seemed large and heavy. Elecio told us that she takes quinoa (a type of grain that her family grows) out to the main road where there are more houses and walks around trading her quinoa for other goods. It's primarily a barter economy, not a cash economy. I handed the woman a small pack with two milano cookies that Continental airlines had given us and she tore right into them. She said something to me in Quechua (a local Indian language) that appeared to mean that she liked them.
As we drove along the gravel road, we saw small complexes of buildings surrounded by stone or brick walls. Inside the walls were several small tin-roofed buildings that could have been homes or sheds to house livestock. As we approached one complex, we saw flags and greens had been placed around, and there were some cars and many people there. Elecio told us this is a wedding. People are not specifically invited, rather if you bring something you can come. The party lasts until the food and drink is gone maybe, two or three days later. As we continued toward Sillustani, we saw another wedding. August is thought to be the most auspicious month for getting married.
Finally we dropped off the Quechua woman. As she got out of the van she had a very small coin clutched in her hand that she tried to offer to our guide, but he wouldn't take it. We continued on to a paved road, went through a village where we had to dodge a pig in the road, and finally arrived at Sillustani.
When we got out of the car here it was cold and windy, even though the sun was shining, so we put on more layers and began hiking up the hill to see the burial columns. It's incredibly difficult to walk uphill at these elevations (around 12,500 ft.). On the way up we saw a local Quechua woman and her baby. They were sitting with a five-month old orphaned vicuna. The woman brings the animal there in hopes that people will pay her a small fee to take its picture. The vicuna's eyelashes our incredibly long.
We continued up the hill and saw the Inca and pre-Inca tombs in a gorgeous setting. It still felt quite cool so when we came back down to the car Bob and I both bought alpaca sweaters from the vendors who gathered at the bottom. Mine cost about five dollars; Bob's was about eight dollars since his was made of baby alpaca wool.
We continued on to Puno, arriving at dusk. We said goodbye to Elecio and met Vidal, our guide for the rest of the trip. It's cold in Puno, but our hotel room does have a space heater (no other method of heat). We took about half an hour to regroup, then went out for a walk around Puno. We saw some local plazas and went to the market. The market is held every Saturday, and by 6:30 to 7 PM when we arrived it was almost over. But there were still lots of people there, most in local dress, which for women includes a full skirt with a half skirt behind that is often covered with sequins and is very colorful and shiny. We saw a whole street where bread is sold. Bins and bins of bread were still left. As we passed by a church, Vidal explained that although 90% of the people of Peru or Catholic, most also still believe in Pachamama (Mother Earth) and Pachatata (Father Sun). Vidal even heard the priest in this church in Puno include Pachamama in a sermon he was preaching.
We walked along a pedestrian street, where I bought two knitted finger puppets to hang on our Christmas tree, and then went into a restaurant to eat. The menu was diverse, including pasta, chicken, pizza, guinea pig, and alpaca. The pizza oven kept it very warm, which we greatly appreciated. We ate dinner and went back to the room to repack, since tomorrow when we do our overnight trip to the islands in Lake Titicaca we will take only our daypacks and leave our suitcases in the hotel in Puno.