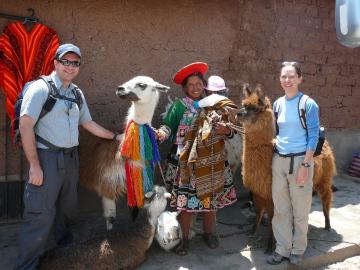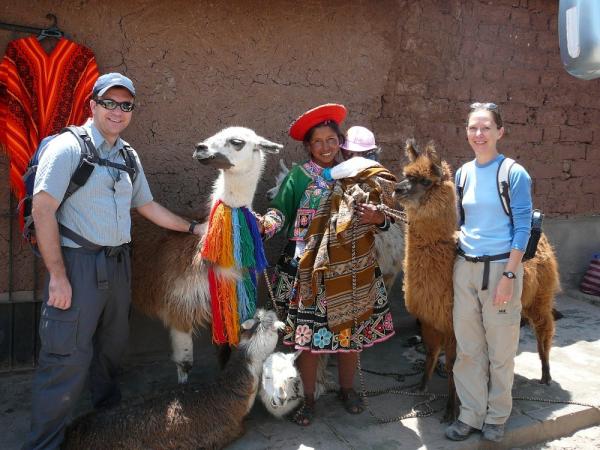 It was all going so well. And then altitude sickness struck in the wee hours of the night. It wasn't pretty and, it lasted most of the day. Simon had a headache, but I had additional symptoms. I'll put it this way, I will possibly never like Pisco Sours and am so very, very glad I had not eaten cuy! Despite my weakened state, I decided I might only ever be in Peru once and I wasn't going to let a little sickness stop me. So, we continued our day as scheduled.
We met Alex at 9AM and took a taxi to Sacsayhuaman. The Incan fortress is huge. Some of the individual stones themselves are 300 tons! There was going to be a children's competition the next day, so they were all practicing their dancing and singing on the grounds as we walked around.
Alex took us to a silver shop where we were shown how they make jewelry. Outside the shop were some Andean women with their alpacas. We were able to pet them (well, I hugged them) and they were so soft! After the hug-fest we visited the White Christ, where the altitude sickness kicked in again. We hailed a taxi and headed back to town. As we sped down a very narrow lane there was a loud banging and scraping noise coming from our very tiny car. The driver got out to inspect the damage. Apparently, something bad had happened to the exhaust system, involving at least one part falling off. The driver didn't seem overly concerned about it, got back in the car and took us to our destination. Now, that's what I call customer service!
After an afternoon nap, some Gravol* and Advil, Simon and I were feeling much better. We toured two Cathedrals with Alex and then went off to dinner. We tried Lomo Saltado for the first time – it was delicious!
*I hope the inventor of Gravol is extremely rich and happy somewhere in the world!