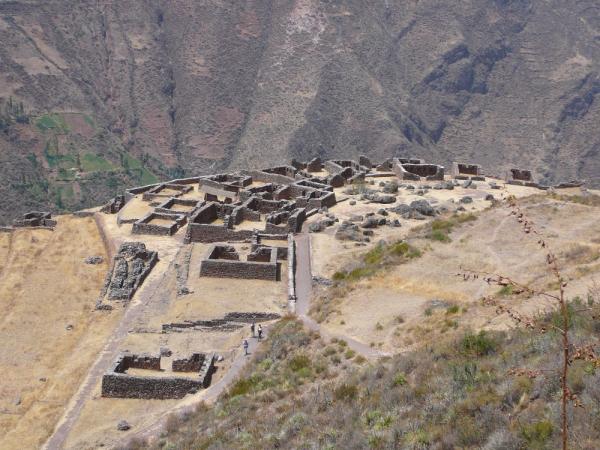 We were sad to say goodbye to the porters. They were so kind and thoughtful and such hard-working people. They all seemed so happy all the time even though they were working so hard. I wanted to take them all home with me, but I'm sure they're much happier in their mountains.
Bruno picked us up and took us to the train station in Ollantaytambo. With a Thomas the Tank Engine-like whistle, we were headed to Machu Picchu.
I have seen so many pictures of Machu Picchu that it was kind of a surreal feeling to be there in person, almost like walking around inside a giant 3D postcard. It seemed huge and kind of mystical. There were a lot of low hanging clouds adding to that mystique. We toured the ruins and were amazed again at the abilities of the Incas.
We arrived late in the morning, so I think we may have missed some of the larger crowds. There were a lot of people, but it didn't feel overly crowded. There were some places where we were by ourselves and it seemed very peaceful. I can see why they chose that place for their city.
After taking in Machu Picchu we took the bus back down to Aguas Calientes. One quick massage later, we were having dinner with Alex and then celebrating at a discotech. I made a few attempts to learn to salsa dance, much to Simon's entertainment. Also at the discotech was a female walking group from Australia who had just finished a 9-day trek yet somehow had enough energy to burn via dancing barefoot to AC/DC (aided perhaps by a few beers).