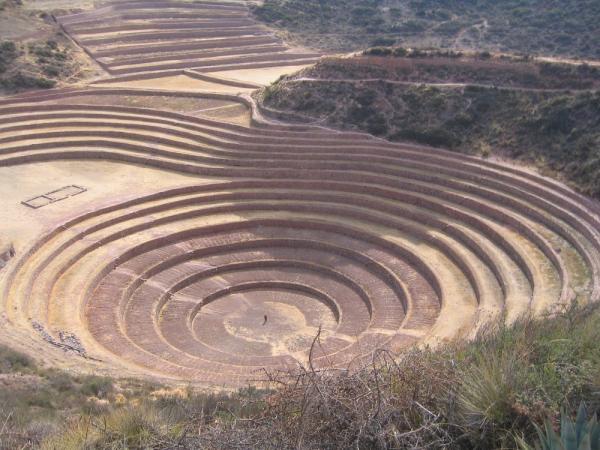 We had put on all our layers Tuesday night because it was so cold. We managed to sleep well and kept fairly warm. Until we walked outside. Everything was covered in frost. It was 25 degrees F in our tent and about 14 degrees F outside. Brrrrr…..Simon's boots had a layer of ice on the inside and they were in the tent all night!
Guillermo and Freddie brought hot tea and hot water and we eventually warmed up. We are getting to really like this way of being woken up and are considering bringing at least one of them home with us.
We hiked to our second peak this morning, which was slightly higher than the first at 4,480 meters (14,700 feet). We were definitely warm at this point. Again we had amazing views of the Sacred Valley and the surrounding mountains, including Mt. Veronica, which was under a bit of cloud cover. We made our offerings to the apus (small rock structures as a gift to the mountains) and were on our way downhill to more oxygen. Ah, sweet energizing oxygen!
The remainder of the day was spent hiking downhill, part of which was quite difficult as it was loose stone and gravel. Antonio, the horseman, made walking sticks for us, which helped with balance. Of course, Pio ran straight down the mountain, not bothering with anything silly like trails or walking sticks, with 50 lbs. on his back. Before lunch, we went to visit a ruin, which is thought to be a temple to Mt. Veronica. The doorway of the temple frames the peak. However, on this day it appears our offering to the apus were not sufficient and the peak was covered by clouds, with the consequence of lost photographic opportunity.
After lunch, we continued downhill to the Cachiccata Quarry. It was interesting to see where the Incas had gotten some of the stones and to see some stones partially completed, possibly on their way down the mountain.
There is also a cave that was discovered last year containing mummies. There was one skeleton completely intact, sitting in the fetal position. There were lots of skulls and other bones around the cave.
With shaking legs, we reached our campsite at 4:30 at about 8,000 feet. We can breath freely! And, we had hot showers and fully operating bathrooms! It was a joy to behold! Although, for one brief nanosecond, I missed the toilet tent. I then came to my senses and delighted in the joys of modern plumbing!
Dinner was in a community dining hall, so the other 2 groups (about 8 other tourists) on the trek were there as well. It was fun to discuss the trek with them, as we hadn't seen each other much, other than as distant blobs of color on the crest of a hill.