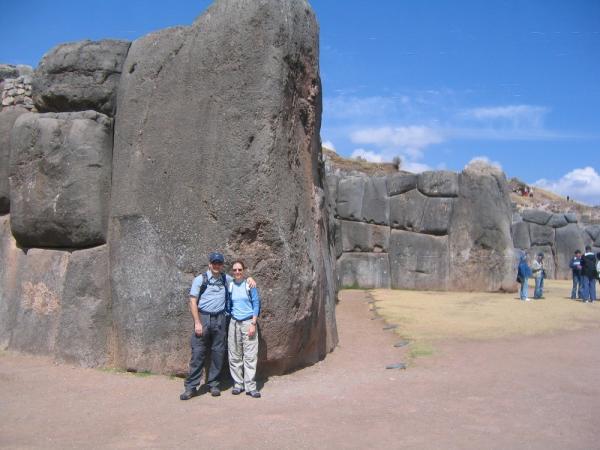 We started the day with breakfast at the hotel and then we were back in the car with Boris and off to the airport for the flight to Cusco. Because Boris is such an avid surfer, he took us by way of the ocean road, where we could check out the waves and the surfers.
We were on our own, with my limited Spanish, at the airport. I was very proud of myself for conversing with the airport attendant, until I realized only one of our bags was getting checked. Oops. That was quickly remedied with some apologetic English on my part. He was very understanding (and fluent in English) and changed the information to check both bags. Whew!
After a windowless flight in the back row of the plane on the way to Cusco, we got checked into our hotel. Then we met our guide, Alex, and he took us on a tour of the city. We visited the food market, marveled at the Incan walls and started to get the feel of the city. The food market was amazing. With the medicinal herbs, all the fruit juices, the aisle of chocolate and the shaman shop, it was very cool. If you are ever in the market for goat testicles, look no further.
We took a quick nap after the tour then went out on the town on our own. We, of course, had to have a drink at the Irish pub in town. Then we walked around the square, checked out the wares of the local vendors and took in the sights. We tried a Pisco Sour at dinner. It definitely has a distinct flavor. Maybe we'll get used to it by the end of next week. We may even learn to like it. A man in the restaurant ordered cuy which sent all the tourists into a picture taking frenzy (we held ourselves back, as we are too cool for school). According to the man eating it, it tastes like chicken.