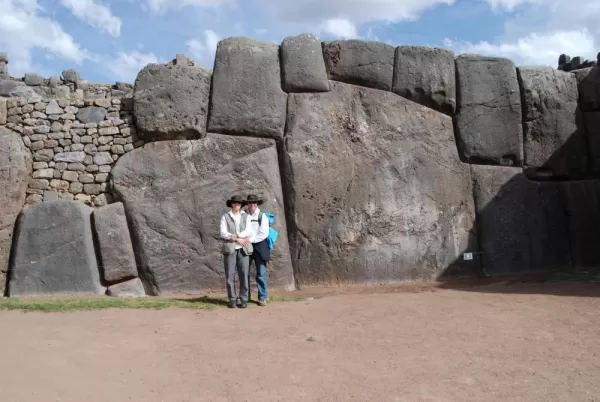 We woke-up at 6am and went to have breakfast. Nice little buffet with pastries, eggs, all sorts of tea including mate de coca (coca tea). Having read that coca tea is very helpful for high elevation, I decided to have one that morning. On the envelope, it also specifies that coca tea is good for digestion system, energy level to only name a few.
At 7am, we had checked-out, and crossed the street to the airport. At 7:15am we were ready to go to Cuzco. Our flight was at 9:05am…I really felt the vacation approaching fast. In few hours we would be in Cuzco, having our first visit of Peru with our private guide.
Lima-Cuzco flight was smooth and exciting. We even had a snack (for only 1:20mins flight). Cuzco airport is doing some renovations, so there was a little delay in getting our bags. We did not mind…we were in Peru!!! After 20 minutes we spotted our bags, picked them up and reached the exit door to feel the warmth of the air of Cuzco and read my husband's name on a sign. Here is our transfer. Very nice guy who walked-us to the taxi and we left. 10 minutes later, we arrived to Taypikala Hotel. Got our room and met our guide: Marco Palomino. He asked us what we wanted to see in Cuzco. My husband asked him if we could go to Sacsayhuaman, Quarikanchan (temple of the sun, moon), and Santo Domingo Convent with the Virgin of Pomata. Marco's eyes just opened wide and were very excited to hear about those suggestions. Had another coca tea and agreed on a time to meet.
At 2:30pm we headed-up to Sacsayhuaman. It was a warm sunny afternoon, perfect to explore this first Inca architecture. Amazing giant stone work perfectly fitting together without using any cement or mud. After few hours there, we went up to Q'enqo. We saw our first lamas. Ending back to town to visit the Santo Domingo Convent. This place was a special place to see the two cultures (conquistadors, Inca) together. The arches and inside court reminded us of Mont Saint-Michel-France. Quiet place with again the amazing stone work.
We had dinner at Ami Manera where we tried Alpaca, quinoa with cheese and a delicious appetizer made of potatoes, avocadoes and cheese. From the restaurant, my husband and I walked back to our hotel passing by the Plaza the Armas. Safe walk and very calm atmosphere.