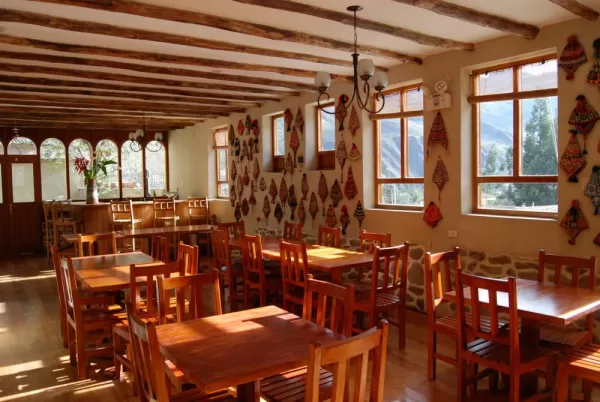 We woke-up this morning with excitement and anxiety…After breakfast, we put on our patches against seasickness. We were ready to go.
Waiting in the lobby, I started to be very nervous as I was watching the clock. Our itinerary stated that our flight was at 9:30am and it was almost 8:30am and our shuttle was nowhere to be found. The helpful lady at the desk called the tour operator because we wanted to know when to expect the shuttle, but mostly we did not want to miss our flight to the Galapagos Islands!!! Five minutes later we got a call letting us know of the flight time changes and two minutes later our shuttle arrived at the hotel. I was relieved. It took not much than 15 minutes to get at the airport. Arriving there our wonderful guide-transfer at the airport greeted us, picked-up our bags and gave us our tickets. We were ready to go. That was quick…no wonder why we did not need to be there hours prior to departure. After passing security, we arrived to the terminal and waited at our gate. Filled-up forms and papers needed before entering the Galapagos Islands. We were pumped-up with energy and excitement once more…few more hours and we will be there.
After a very nice and relaxing flight, we finally landed on Baltra Island. The immigration section was well organized with its automated direction showing us the next counter available. It was very productive. After showing us our passports and papers, we paid the park entrance fees and waited to pick-up our luggage. It was warm in the hallway, people excited, impatient and bumping into each other to get first in line. We stepped on the side and waited our turn. Our luggage were not available yet…we were the second flight to arrived. When the guard allowed us to enter after showing our luggage's tags, we quickly picked-up our bags and met Peter, our Level III naturalist guide on board of the Odyssey yacht. He will be the man showing us around for the next 5 days and in hindsight, he was outstanding ! Breath in and breath out…we are in the Galapagos. A short 5 minutes ride from the airport to the port by bus before taking a water taxi to the Odyssey yacht…our new home for the next few days.
On board, the Captain and his crew welcomed us. Great people. We also met the other 14 adventurers on board with us. It was time for lunch and left Baltra Island to reach the North of Santa Cruz Island. After lunch, we visited "Las Bachas". We walked on the beach and explored our first island of the Galapagos. We encountered marine iguanas, blue-footed boobies with a feeding frenzy, Sally light-footed crabs, pelicans and saw a nesting site for sea turtles. While people from the group enjoyed snorkeling, my husband and I walked on the beach realizing our lucky we were for being here in the Galapagos Islands. I witnessed a marine iguana getting into the water while another one surprised me by being so close to me on the beach.
We returned to the boat using the zodiacs. Arriving at the boat, nice snacks and great fresh juice were awaiting us. Carlos and the cooking crew made sure we had something in our belly after walking on the beach and snorkeling. We had time to change and get ready for dinner. Great dinner-buffet.
Peter, our guide, briefed us on tomorrow's schedule and we retired to our room.