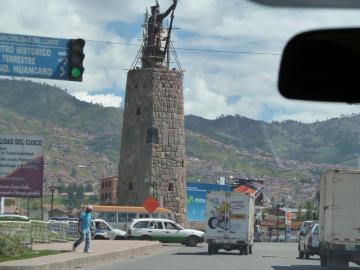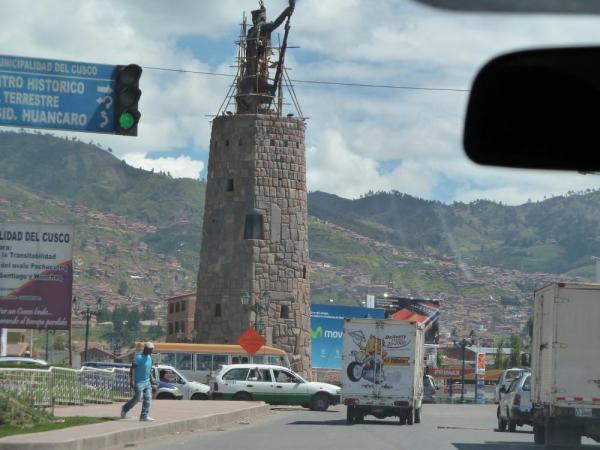 Woke up early for breakfast and was already packed up from the night before so we were ready to go. Guy from Adventure Life had us fill out some form as an evaluation and then we were off in the van to the airport.
Guy came in with us and when we entered the confirmation number, it did not register. So, he made us stand in another line. The other line did not move for nearly 45 minutes. I went to look for help and the women would NOT help me. Apparently there was only one person at the counter and it was a mess!
I came back to Salman and the line hadn't moved. I was worried about missing my flight but felt better that the persons in front of us had the same flight as ours. After 45 mins, the line moved and everything was fine.
Very disappointed to get an aisle seat but other than that, was OK. Felt dizzy as flight was landing, but tried to keep focused on the 2 windows I could eye on either side. Got to Lima.
Luis Pari was waiting for us and picked us up and dropped us at the Marriott. On the way he also stopped at a park so we could take pictures. We left our luggage at the Marriott and went across the street to eat Chifa (Chinese in Peru). Was very good. Reminded me of Chinese in India or Dubai. They used ginger in their cooking and it majorly alters the flavor.
We made it back to the Marriott waiting for the Lima Vision Bus for our tour. Bus picked us up and then dropped us at another spot to transfer bus to an English guide.
I remember Plaza De Almas as there was one in Cusco also. I remember the garden with a lot of fountains. And of course the Catacombs. Wish we would have spent more time in Lima. So much to see. Tried to take a lot of pictures but won't know what building is what when I get home.
After tour came back to hotel - saw a lot of brides - 3 brides actually. The first 2 had beautiful gowns. The last bride's gown was OK.
And then Luis came to pick us up and took us to authentic Peruvian restaurant. Food was excellent. Had grilled white fish. It was so soft and tasty. Never had fish that good before. Luis asked if I could have a small Lukuma flavor ice cream. And so they went to a nearby shop to get my ice cream. Was very good also. And then stopped and got a T shirt for Riaz and myself. And off to the airport. Must say that the music on the way back Lima FM 88.3 was amazing. Last song was *I will survive*!
And so here I am at the airport. My iPhone says no signal and that worries me. This morning I had good signal and yet I'm not able to send a text now. Oh well. I hope the phone can connect OK in Miami. My mom knows I'm in Lima. Would have liked to let her know that I boarded etc. But I can't. Oh well! At least there's wifi here and I hope they got the email I sent them. And I hope I can connect in Miami.
To be honest, I'm looking forward to my home and my shower. Will be nice. And yes, I'm also looking forward to work on Monday despite Rachel! What else? Well, so ends my trip. Can't wait to plan my next trip, but let me get home safe first. :)