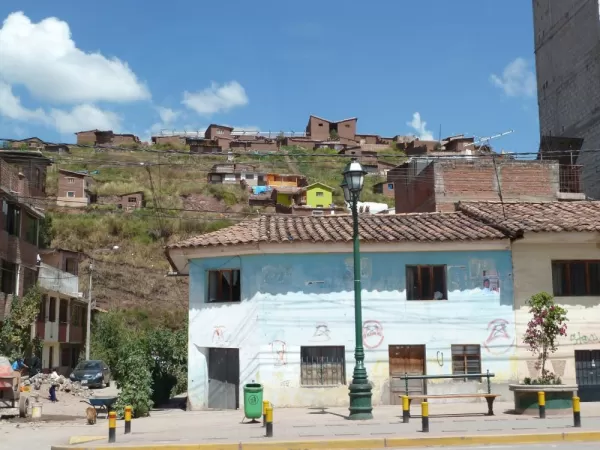 This entry is a day late.
So yesterday started at the breakfast table with Ronnie our tour guide came up to Salman was asked if he was *Sohlmone*. Then he introduced himself. I was a bit worried because we were told last evening that our guide's name will be Daniel Chavez. I mentioned it to Salman. He did not think much of it. But as we left the hotel, Salman asked Ronnie about Daniel Chavez and apparently Daniel was sick.
So we had Ronnie as our tour guide. I really liked Ronnie. I could understand him much better than Boris and wished Ronnie had been our guide these past 7 days. Apparently he does the Inka Trail hikes (Boris does it too) and another trail that I can't recall the name to. He mentioned that on the Inka trail hike one day there are over 2000 steps to climb down. Would do a number on anyone's knees. He talked about the culture etc. etc. But for me since I had more trouble with Boris' accent I really enjoyed learning more. I asked him about Manu rainforest and he left his information with me before we finished our tour.
So, we went to Pikillacta. Pre-incan ruins. Floors made of gypsum almost 10 cm deep. And long streets lined with walls. No water pipes - or rather aqua ducts. There was a story of the Princess Sumotikka who lived in Pikillacta who said she'd marry the first guy who would be able to bring an aqua duct into Pikillacta. The story goes that 2 men got close. There are 2 paths for water in the far off mountain.
One man died trying. The other, well, he made it but the Princess will not have him and locked him up in a room full of fleas and he died. Was quite a story. I said, *there's a word for Princesses like that today.* Salman and Ronnie looked at me and I said, *bitch!* Got a laugh out of that. Salman said, *such a serious story and you had to say that!* I told him I was just breaking up the seriousness of the moment. For whatever reason, after that, Ronnie kept calling me a princess! Maybe he didn't understand my *bitch* comment - or rather I hope he didn't. Pikillacta was very nice. Next stop however was Tipon.
Of course bumpy bus ride. Ronnie said that we needed to mention these places more so that the tourism council may build better roads etc. Anyways, Tipon is irrigation pipes and the source of water is under ground and till today it flows. It was NOT touched by the Spanish and it's in its original form. Very beautiful terraces of green grass with the water paths that's still running.
Ronnie said that we should wash our hands in the water and wipe our heads with it. Apparently all our wishes will come true and it prevents grey hair. I just wished for happiness and heaven. And then we were back from the tour. I think my stomach was a bit upset from all the fruits I had eaten the day before, but I didn't have anything half as bad as what Salman had.
When we got back to Cusco we walked the streets looking for a coffee shop to buy more coffee. We finally found it after walking past it the first time around. I bought tea! And coffee for Yasmin as I wasn't able to buy her the big bag from the market the other day for fear of running out of room. I also bought mint tea and tea with cinnamon/cloves. Should be interesting.
Funny thing on the walk is that Salman got hungry and wanted lunch but he wanted something more *local*. I was fine. A- I wasn't hungry. B- Really didn't want anything local as I had already tried it all. So we stop at one stop and of course, the menu is in Spanish and Salman couldn't understand a thing. I'm like, *maybe we should just go someplace 'normal'*. Anyways, we ended up with him eating a chicken sandwich (how local!) and I had chicken noodle soup. Chicken noodle soup is so different. I don't like the pieces of chicken. Very bland. Anyways, we got done with coffee, lunch, and got to the hotel and packed our bags.
At night we went to eat dinner at the pizza place of our first night. I exchanged another $100. God knows where the money disappears. I think it's the exchange rate that throws me off. $1 = 2.8 soles. Then Salman watched the Julia Roberts movie, *I love trouble* but I couldn't seem to get into it from the middle and I went to sleep early at 9pm.
Oh and I noticed some bug bites on my right knee - several and one further up my thigh. Don't know how as I was wearing pants the whole trip. Hope it's nothing serious.