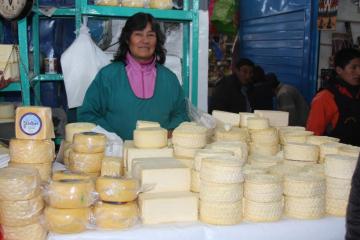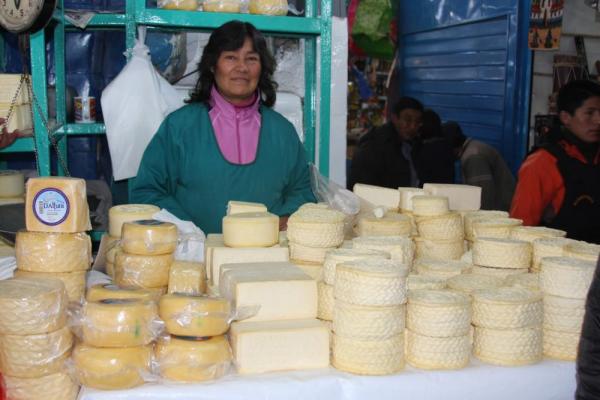 The following day our guide and driver picked us up and we drove to Pisac, another historical Incan site 1 hour from Cusco that lies at the southern entrance to the Sacred Valley. On the way we stopped at a small farm to try traditional empanadas. They were put in a wood fired oven and cooked fresh in front of us. Marco made sure we didn't miss out on many of the local specialties.
Above Pisac we explored more ruins at 13,500ft. By now we were feeling the elevation. Luckily, we didn't suffer from headaches or nausea, but we were quite winded while hiking around the archaeological site. Our voyage into Incan history continued as we learned more about the Incan's unwavering devotion to, and respect of the sun and mother earth. It turned out that Marco was fluent in English, Spanish and Quechua. Quechua was spoken by the Incans. This language was banned from public use in the 18th century, but is still spoken by older generations living in the Andes. Marco's fluency in this language allowed us, with his assistance, to communicate with elders in the remote areas that did not speak Spanish.
Pisac is also well known for its silver craftsmanship. In the village, we wandered around a smaller market and after getting the hang of haggling with the locals, purchased several jewelry pieces as gifts for family. Marco surprised us with a piece of carrot cake from an individual who he claimed was the best cake baker around. He had just sealed himself in our good books forever!
We continued our drive through the Sacred Valley (dropping to 9,200 feet - oxygen, yay!) where we had lunch at a beautiful hotel. This buffet lunch allowed us the opportunity to try more local specialties – we sampled braised alpaca and purple corn pudding; both were excellent.
After lunch we finished our last leg of travel for the day, arriving in the quaint town of Ollantaytambo. We explored more ruins - the most intact and meticulous we had seen up to this point. Marco told us an enchanting tale about Ollantaytambo functioning as a strong hold for the Incans during the Spanish conquest. The terraces that had been constructed into the side of the hill for agricultural purposes were extraordinary in both size and detail. Toward the top of the ruins, the walls of the structure had indentations about every 4 feet at shoulder level. Marco instructed us to lean our heads into the indentations; he walked about 40 feet away, inserted his head into one of the indentations and spoke softly. We could hear him through the stone. If we withdrew our heads from the indentation, we heard nothing. The sound was carrying through the rock. We knew how lucky we were to be accompanied by such an informative and interactive escort when a few other tourists watched Marco engaging in this acoustic demonstration and commented: We wish we had your guide.
Back at the hotel, we loaded into a three-wheeled motorized taxi (a ridiculously funny vehicle), and sped off to have dinner at El Albergue, a cozy restaurant straight out of 1920s Paris. This restaurant is literally in the train station, and is so charming that I half expected to see a romance scene from times gone by take place on the platform outside. I wouldn't have been surprised to stumble upon bohemian writers and musicians smoking pipes and drinking scotch in a parlor next door. An open kitchen, clanking wine bottles and the buzz of conversation created an infectious energy. Over a bottle of local wine, I dined on hand made four-cheese linguini while Andrew enjoyed a savory alpaca steak in elderberry sauce.
We strolled back to our hotel under a canopy of stars (it was fun to see the Southern Cross - a constellation that never shows its face in the northern hemisphere) and climbed into bed.