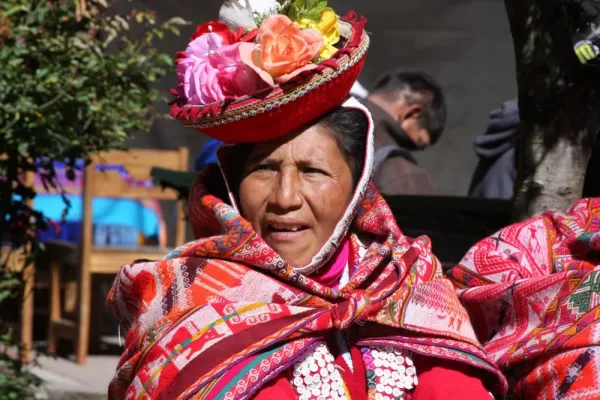 The next morning after, you guessed it, another astonishing buffet breakfast, we spent our time walking around the streets of Aguas Calientes, purchasing souvenirs. In the early afternoon we traveled back on the Vista Dome to Ollantaytambo. On the train we were treated to a fashion show of high end alpaca clothing.
We were met in Ollantaytambo by our ever-friendly and always smiling driver who picked us up and transported us on a scenic route back to Cusco. We stopped along the way to take photographs, and arrived in Cusco around 5pm. After Marco made sure we were settled in at our hotel, we said goodbye and thanked him for a remarkably special experience - we could not have asked for a more warm, funny or knowledgeable guide.
For our last night in Cusco we returned to Cicciolina for dinner. According to our Lonely Planet Guide, this restaurant is rated a Cusco's best, and with good reason. The meal began with Spanish Wine and home marinated olives - so flawlessly marinated that they weren't too salty or too briny, they were just perfect and melted in our mouths. We feasted on risotto with succulent scallops and shrimp in a whiskey sauce. White chocolate mousse for dessert was the finale to a fabulous culinary show.
We strolled back through the main square and haggled with a local artist, eventually buying a water color of the streets of Cusco, depicting the alleys we walked each time we left our hotel. To top off our evening we stopped for a Guinness at the highest 100% owned Irish Pub in the world. The pub, which is perched on the corner of Cusco's main square was jam packed with ex pats watching a Peru v Mexico soccer match.
With a bitter sweet feeling, we headed back to our hotel and organized our things for our flight to Lima the next morning.