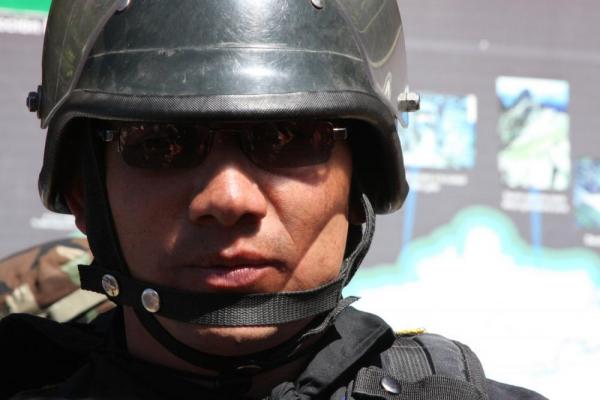 After filling up at another exceptional breakfast buffet (a common theme in Peruvian hotels that I give two thumbs up), Marco picked us up at 8am with a hired driver and took us to Saqsaywaman (literally pronounced something very similar to "sexy woman" - it took me until about the 4th day of the trip to realize that Marco hadn't been saying sexy woman. Apparently I was not the first tourist to have made this mistake). Saqsaywaman is immense - over 3,000 hectares. It was an important religious complex in its heyday, and is comprised of massive stones, some weighing more than 100 tons that have been fit together perfectly; the structure is airtight despite the fact that no mortar is present. The site is full of native alpacas, birds, and local fauna. Marco took us through caves and passageways that were believed to bring people from one world into another. We were blown away by Marco's extensive historic and cultural knowledge, and as we found out, this history buff is actually in the process of writing a book on Incan civilization. Not only did we have a private guide, we had an expert!
On the way back into the city center, Marco accompanied us to the local market which is akin to a grand bazaar containing hundreds of vendors where one could purchase absolutely anything - from full cow heads and sheep eye balls to wooden cooking utensils and flowers. He helped us sample fruits and other items that we had never seen or heard of, and similar to nothing we had ever tasted (he also let us know what we couldn't sample without getting sick - a priceless tip). Some were splendid, others, not so much, but all were new and exciting. We also tasted and purchased local cheese and spices. I marveled at how cheap the delicious cheese was, and promptly bought an entire wheel. He showed us around a witches market (where there were some seriously crazy things for sale) in addition to other completely wild and eccentric stalls.
We spent a free afternoon walking around the shops and back streets before heading to Cicciolina, a lip-smackingly good restaurant, for appetizers. After savoring our final bite of ceviche and last drop of fabulous Chilean wine, we ran across town (literally, we were late) to attend a traditional Peruvian dance and music performance. The stage was flooded with brightly colored costumes that whirled around to the music of a live band. The crowd really got into it as the show was stolen by a pair of twelve years olds that did a top notch performance for the closing number.
We scooted back across town for a late dinner. Earlier that day, Marco helped us make dinner reservations at Chi Cha - Gaston Acurio's first restaurant in Cusco. While sitting in this restaurant, it would be easy to forget that you were not in one of Manhattan's fine dining establishments. White linens, flawless service from waiters wearing traditional black tie and aprons, an absolutely spectacular international wine list, impeccable food...it was perfection. Our meal started off with Papas y Cremas, a selection of local potatoes covered in a variety of traditional sauces. Andrew ordered an Adobo for his main course (Cusco's spicy and aromatic pork casserole that is baked and served in a clay pot), while I enjoyed Linguini Sabroso (fresh pasta topped with a creamy mushroom and sausage tomato sauce). We lingered for a while over dessert and cappuccino before meandering back to our hotel, our taste buds still on cloud nine.