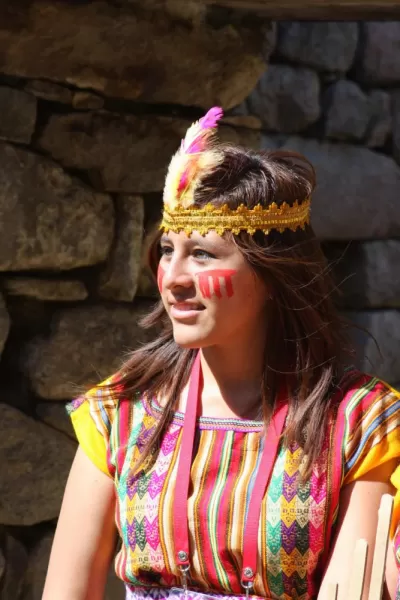 After ravaging a grand breakfast buffet in our hotel, we headed back across the street to board our flight to Cusco. Cusco is steeped with incredible amounts of intact heritage, and sitting at 11,500 feet above sea level, is one of the highest cities in the world. For a city that is isolated in the Andes, it has more sprawl and is larger than one would expect, with a population of about 400,000. The descending flight into Cusco gives passengers the impression that they're approaching a city absent of most modern amenities. This couldn't be further from the truth. Despite the fact that this city looks quite run down from the air, it has the ability to impress even the most seasoned and discerning traveller.
We were greeted by our smiling driver who was holding a sign as we exited the airport - he knew us by name even before we had the chance to introduce ourselves (nice touch Adventure Life!). He kindly helped us with our bags and assisted us in getting a cup of cocoa tea upon arrival at our hotel. Our hotel was quaintly tucked into a quite back alley, not far from the main square of Cusco. As avid skiers who have carved many turns above 10,000 feet, we suspected that we would be alright with the change in elevation, but still drank several cups of the tea as a precaution.
Marco, our guide for the next five days, met us in the lobby shortly after our arrival and we ventured out to begin our tour of the city. It was colder than expected, but bright and sunny. It reminded us of crisp fall days in New England, with morning temperatures around 32 and daily highs around 65. We purchased hats and scarves from the street vendors to keep us warm until the sun heated things up in the afternoon.
We toured many of the archaeological and historical sites in the city center of Cusco and in the process Marco gave us a basic education of Incan history and Architecture. This would shape our journey for the next five days. Each day we visited different ruins and at each site Marco provided more information, layering the history like an Italian sandwich, a technique that made our trip increasingly fascinating as the days progressed.
Aware of our burning desire to try the local cuisine, Marco arranged dinner for us at a charming restaurant on the second floor of an old colonial house; he even scored us the table in the window, lit by candles. What a guy! We wasted no time diving into the local cuisine and ordered Causas with Guinea Pig. A Causa is a traditional Peruvian layered mashed potato dish that is to die for. Enjoying a unique national specialty such as Guinea Pig was very interesting as well, but I'm not sure it's what we expected - not that we had any particular expectations, as large rodents aren't a common dinner item in our house. The Guinea Pig comes out whole, teeth and all, on a platter. It's a bit startling for a person who isn't used to their food looking and grinning, at him or her. A decadent chocolate dessert finished off the evening, and we called it a day.