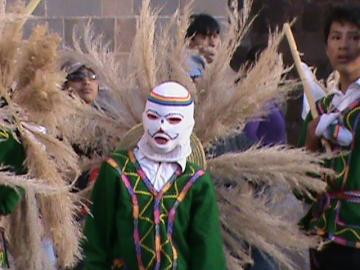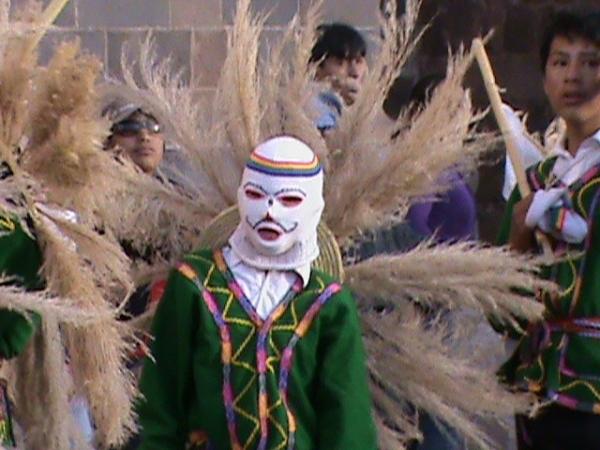 With some early morning dancers still parading through the streets of Ollantaytambo, our group set out for the train to Aguas Calientes, and then on to Machu Picchu.
With most of our luggage staying in Ollantaytambo, we walked to the train station. At the station, most of us bargained for walking sticks to take with us. My guide book had stated that hiking/walking sticks are not allowed in Machu Picchu. However, this is not true.
The ride on PeruRail was beautiful, and we arrived in Aguas Calientes, where most of us dropped off our luggage at El Mapi, our hotel. We then caught the bus to Machu Picchu.
Because it was a Sunday, the park was not as crowded, and there were more Peruvians on the grounds. Words cannot describe how I felt at finally seeing this site! I have been waiting almost 40 years to see Machu Picchu.
Vidal took us on a carefully guided walk. We had arrived around 10 a.m., and we would be there until the park closed. It was a beautiful, clear day, and the views were spectacular.
I was anxious to get a picture of the blue/black and white swallows that flew around us, but none landed long enough for me to snap a picture.
Other wildlife included llamas. Rather used to people, the llamas would allow people to pet them. Vidal did warn us that if they had had enough human interaction, they could kick! Alpacas had also been introduced to Machu Picchu. However, even at 8,000 feet, the area is too warm for alpacas and their thick coats.
Machu Picchu has terracing on almost all sides, and much of it does not make the main photographs. I was surprised to learn that there is a stone quarry there. One of my group members joked that she was sure that the Incas had invented the bulldozer, but archeologists, had not found it! I replied that Hiram Bingham had found it, and it was stored in a basement somewhere at Yale University! We all had a good laugh.
Machu Picchu is being watched by environmentalists. Every tourist who goes there leaves a carbon footprint. Our group had the option of going back to the park the next day for a few hours. I felt I had left enough footprints. Parts of the park are off limits, and there are rangers to see that tourists do not stray. It is such a beautiful site, and yet, I felt a bit guilty knowing that I was contributing to its wear and tear.
At the end of the day, four members of our group stayed at the Sanctuary Lodge, right outside the gates of the park. The rest of us returned to Aguas Caliente, and some much needed hot showers!
THINGS TO KNOW: Hicking poles and bottled water are allowed in Machu Picchu. Most of us carried water and snacks in backpacks. Everything brought in must come out. Sunglasses, sunblock and insect repellent are necessary items when hiking the park. Wear long, lightweight pants. I saw many people with sunburns and insect bites. Machu Picchu is not an easy hike. There are a lot of ancient stairs. Many of us in my group had trained for months to prepare for this day.