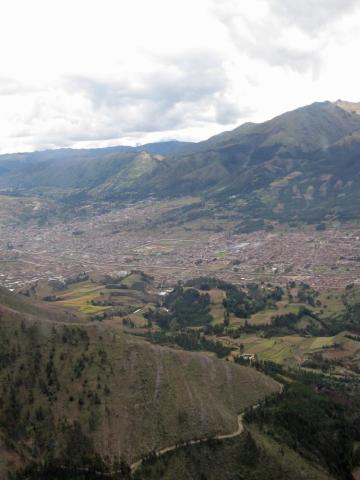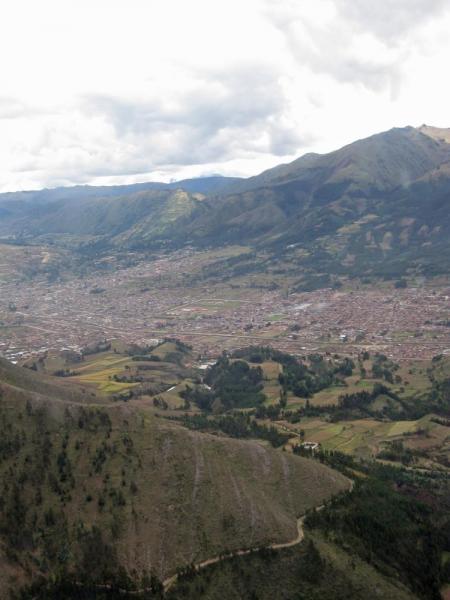 We were up at 6am to a delicious buffet breakfast at the hotel. Our flight to Cusco departed at 10:10 am via TACA airlines. They served nice sandwich and danish. The view on the flight was spectacular! The scenery was endless valleys & snow capped mountains. Truly beautiful.
Our guide Vidal met us as the Cusco airport with a van and driver. They took us to the Taypikala hotel, got us registered and agreed to meet around 2 when the other couple arrived. The hotel is very nice, beautifully decorated and peaceful outdoor garden. They always had Coca tea in the lobby. Our room was great ! I was feeling a little light-headed so I started my Acetazolamide. We went out for a walk around the cobbled narrow streets.
We met up with Vidal and the other couple Peg and Chris and walked to the Qorikancha Museum and Church of Santo Domingo. It was a very interesting introduction to the Inca's. Thru the Spanish invasion and earthquakes, the perfectly fitting Inca walls and structures have survived Vidal has a wealth of knowledge. We then had a wonderful lunch/supper at a great restaurant Vidal knew about. I had a delicious potato, mushroom stew. After lunch we visited the Cathedral in the main square, Plaza de Armas. The cathedral inside is beautiful, with many altars of silver and gold and often with fresh flowers. The paintings have been adapted to reflected the Inca Peruvian way of life. We said goodbye to Vidal after that and that evening Diane and I went to see a Traditional Dance and Music show. It was great. We then wandered back to our hotel and were in bed by 8:30pm, as we were quite tired.