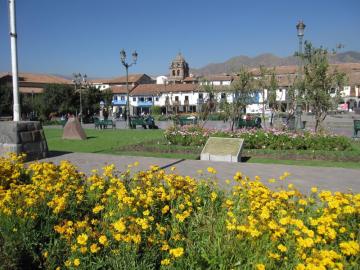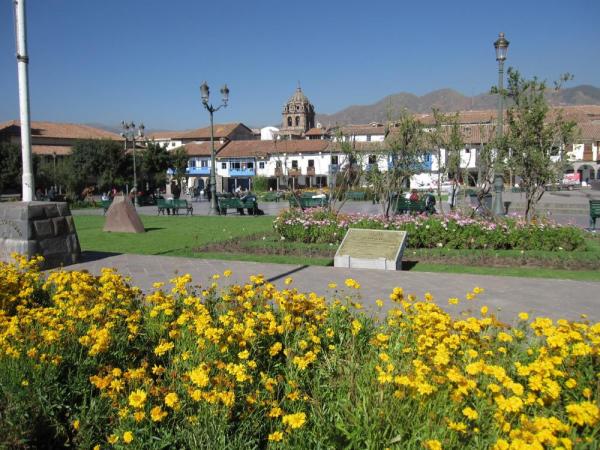 We woke to a beautiful sunny morning. The glacier across the way is gorgeous. This is our last breakfast with the porters. They all are so friendly and happy and laughing all the time. We will miss them!
The morning is all downhill, hot and sunny. I must admit I was feeling a bit weary this morning. But the great views and delicious lunch soon revive me. Vidal says today is again "Peruvian Flats" or "easy-peasy". After lunch it is a bit uphill, with the 2nd last stairway, like climbing up a ladder. The fellow ahead of me referred to it as having to crawl up like a cat. It was almost straight up so be sure and don't lean back or you will end up at the bottom again starting over.
The next and finally stairway is to the Sun Gate, Intipunku. Here we are rewarded with the most awesome site ever! Down below us is Machu Picchu. It is soooo beautiful, I can't stop smiling! The feeling inside is something I will always remember. There is no better way to first see Machu Picchu other than arriving thru the Sun Gate.
It is still a bit of a hike down, but some llamas joined us and poised for pictures. After taking numerous pictures is was about 3:30 so we all agreed to go to our hotel and return in the morning for a full tour with Vidal. We take one of the many buses down the switchbacks to Aguas Calientes. Our original hotel is booked up so we get upgraded to the most beautiful hotel I have ever been in. Our bags are delivered there. We enjoy a wonderful shower and head over to the restaurant. We enjoy a complimentary Pisco Sour and chat with somne other trekers. After a delicious supper we go to the hot tub and then retire for the night.