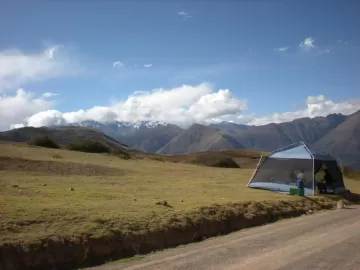 Woke up to Lima's 'garua' grey sky. We walked around the upscale neighborhood, and down to the shore. Even in the fog, the high bluffs along the coast were beautiful scenery. Surfers!
Eduardo called to make sure we were okay, and to confirm the transfer time. God bless him!
So we're in the cab, and there's a local MARATHON going on! Another 'who knew?' which threatened to delay our travel. Good thing the driver knew alternative route. Nice drive along the coast, lengths of little soccer courts, very busy on a Sunday morning.
The airport was a zoo. We needed the 3 hours, but we got through okay. Duty-free pisco, and one last empanada to use up soles.
We are ready to go home... but it's over...boarding soon.
Flight okay. Short connection in Panama City, we had not left the gate area. There was a new, additional system of security at the gate. Maybe because we were going to Washington D.C.??? Who knows, but they were confiscating unopened liquids purchased behind security, including water, and our duty-free bottles purchased in Lima ! I handed them my carry-on to check, but it was a soft-sided bag. I didn't have time to check everything that was in there. (A souvenir got broken!)
It was good to be home, but WHAT A TRIP!!
Thanks to all of the service provided by Adventure Life. Part of their trademark is 'authentic travel'. That is totally accurate, and exactly what we got.
After doing quite a bit of research on various companies, we chose Adventure Life for its overall philosophy, small group size, the pace of itinerary, cost, quality of guides. Also the quality of the staff we were dealing with on the phone, was always very positive, patient, and helpful. They were so flexible accommodating our preferences, which turned out to be an excellent preview for the service we got in Peru. We were very pleased by what they provided. As noted several times, it felt quite luxurious to be traveling just the two of us, with such personalized, quality services.
All of the guides were outstanding. All of the accommodations were very comfortable, clean, and conveniently located. They had excellent friendly service, and great local character, which to me is so much more important than luxury. Machu Picchu had been the original incentive, but the rain forest, Lake Titicaca, and all of the sights, the experience made a fabulous trip, which I'm going to be talking about for a long time.