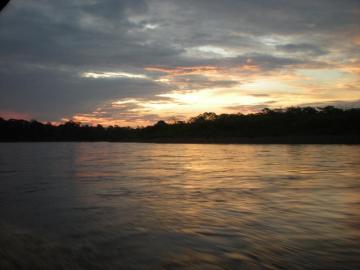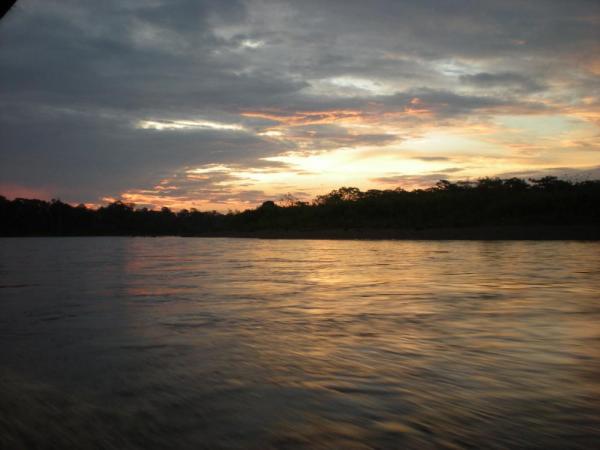 Before the alarm, we're awakened by a loud roar, like distant machinery. We soon learn they're the howler monkeys! That was awesome! It's still dark as we head to breakfast. There's a little commotion in the garden? It's Vanessa, the local pet tapir. So close!
We had hours to go in the boat to go today, so after a night of Imodium moments, I only ate bread for breakfast.
The morning light on the river was beautiful, and at that time saw many shore birds. Now going farther down the river in the daylight, getting farther away from the Manu reserve, I could see increasing habitat destruction. There might only be a small stack of wood planks next to a small path into the forest, which doesn't look like much, but gradually the forest was not so dense. A forest cleared cattle farm appears to cause drastically more severe shoreline erosion. (We saw plenty of slash and burn along the roads.) At Boca Colorado, we cross the wide mud trek to shore and say good-bye to Enrique and the boat crew. We were handed off to Carlos, a young man our 'transfer agent', which is like a guide in training. He tried very hard to give us good service.
At least the bad roads are straight, and there are plank bridges over the ditches. Back on the 'highway' we stopped at what's developing as what we might call a turnpike stop. They were adding a lane for this, just since we had passed a few days before. The facilities were clean, and the counter girl was very friendly. Throughout our trip, without exception, the people serving us in hotels and restaurants were very pleasant and helpful. They treated us like they were glad to see us. Peru seemed to be trying very hard to look after the tourists. Our experience was that anyplace dealing with tourists, in the large or small town centers, including public bathrooms, were clean. In the cities, there were plenty of security people, and the streets were well lighted. Since it was dark by 5:30, this was important.
At no time did we feel unsafe, except with this next driver to the Puerto Maldonado airport. He drove way too fast, not stopping for anything. Look out, pedestrians! (I know this is common in many foreign countries, but he was an exception to all of the other drivers we had in Peru). At some point, I realized he was about to fall asleep, literally having trouble keeping his eyes open, resting his chin on the steering wheel. (I was riding in the front so I could see this clearly.) Carlos didn't seem to notice, and we weren't communicating well enough for me to explain my concern and ask him to have some kind of conversation with the driver to keep him awake. (And I didn't want to be difficult.) I realize this is something that A-L didn't have any control over. How would Enrique have known that the driver hadn't had enough sleep? We were very relieved to get to the airport.
At the Cusco airport, the transfer agent wasn't holding a sign. Enrique had said his name was Nico. We waited some minutes, then since he worked for Inkanatura, I asked another Inkanatura greeter with such a sign if she knew Nico. Fortunately he happened to be standing next to her, so the connection was made. I had not traveled with this kind of tour before, and had been a bit apprehensive about all of the connections. We had a few minutes of 'where is he?', but this was very minor and there were no other problems meeting up with our guides or transfers.
We arrived at the Taypikala, warmly welcomed by the staff. It was well located and quiet. The room was very comfortable. We knew to take it slow with the altitude, just walked around the nearby Santo Domingo area, and ate light at the hotel restaurant. The food wasn't chic, but it was just fine.