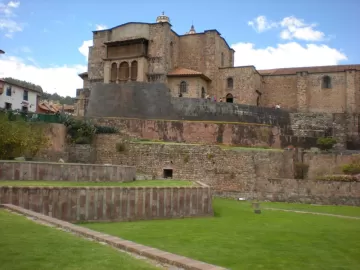 It was a difficult day, but behold MACHU PICCHU!
Poor Dave got sick in the night. He felt really bad this morning, but we had no choice but to keep going.
Breakfast omelet with bacon!..the first breakfast meat, and in my opinion, the best breakfast of the trek. (Lunch would be a box lunch chicken sandwich).
Dave felt so bad he couldn't eat. He was already dehydrated. The local remedy was celery tea. Edwin also had some electrolyte powder and an extra Gatorade.
The morning was mostly hard down steps, including a spiral staircase. We said adios to the porters as they passed us for the last time. After 3 mi, we stopped at the another campsite at Winay Winay, where there is a closed dining facility. The unused entry platform was a perfect place, out of the way, where Dave could sack out for a while. Edwin had been in touch with Augusto, who came back to the stopping place with a sleeping mat for Dave to lie down on, and he also brought extra water. I thought he showed genuine care, which was appreciated. Having the team to work with was also a credit to using Adventure Life. ( I'm not sure what would have happened if there had been even just two more people with us. Would they have been held up by Dave's illness, or would Edwin have had to leave us ???)
Earlier we had passed the Puyupatamarca ruins , which were very impressive, and I think would be a destination by itself, if MP didn't exist. Views into the valley were quite dramatic. Edwin suggested we take a shortcut from the trail, which bypassed the loop to Intipata, though we could still see it from a distance. We were actually on a path that the porters would use. (They had lots of shortcuts, which avoided steps.) At this point, Dave just needed to get down.
Again we were into the cloud forest the whole way. Begonias geraniums in their natural habitat !! There were also wild strawberries, and I saw a lizard. (We've not seen any wildlife the entire way. )
As we got closer, hearing the train and an airplane felt like a shock after our remoteness. The last steps were hard. We were using our hands to climb, feeling truly like a pilgrimage, and then it's the Sun Gate and we are there ! We marveled, took pictures, rested! It is a farther view of MP, than I expected, but still very dramatic and totally awesome.
So many of the books recommended being there at sunrise (which didn't interest me enough to wake up in the wee hours, and then have to hike in the dark). I think the late afternoon light lent a wonderful quality to the ruins, and it was just great.
The only down point was that Dave felt so sick, it definitely impacted his ability to enjoy the crowning moment of the trek. Nonetheless, we were both SO GLAD we had taken the trail, instead of just the train. We saw and experienced so much more ! It's about the history of the trail, and all of the sights along it, the whole experience! There was a fantastic satisfaction of achievement, the height of anticipation, to the climax moment that lived up to great expectations, and did not disappoint.
It took another hour to go down to the bottom. Being back among the tour groups felt like a shock, as did the nice bus, but the cushions and the a/c sure felt good! The bus down the switchbacks, wasn't nearly the Dramamine moment I had anticipated. Aguas Calientes is certainly entitled to be the tourist place it is.
The El Mapi is a nice hotel, and wow it felt good! Dinner was included, and they specially made chicken soup and toast for Dave, but he couldn't eat much. My excellent meal had a cream of veg soup, and chicken with a fruity sauce I couldn't identify, with another serving of great Peruvian mashed potatoes. The chocolate cake dessert was trying to be a brownie, okay but too sugary.
A shower and a bed!