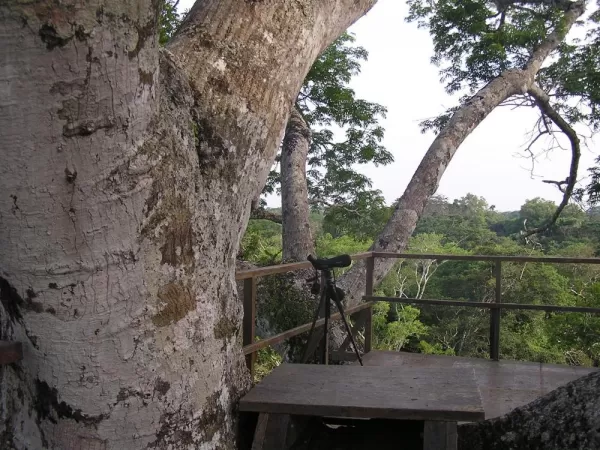 We were so excited that today's the day we've been preparing for and looking forward to for so long. Every weekend for 6 mos we took a practice hike of at least 5-6 mi.
Outside our window and from breakfast, we see the vendor women selling breakfast foods to kids on their way to school, and adults going to work. Our breakfast buffet was delicious. Mango Jam was a new one for me, and a treat on the consistently good breakfast breads.
First we visited the Inca ruins there at Ollantaytambo. The town still has a lot of the original village structures. Beside us on a field trip, was a school group from a small town that doesn't get tourists. They asked if they could have their picture taken with us tourists!!! Dave practiced his little Spanish with them. They took pictures with their cameras, too, or I would have gotten their names and address, so I could mail them copies. What fun! This was typical of a situation, which we may not have understood, if Edwin hadn't been there to translate and explain.
So down the road to Km 82 at Piscacucho to start the trail. The staging area was interesting with the various groups, and porters packing...like a large carton of eggs ! in a back pack ??!! Something about the staging area, reminded me of an ancient caravan stop, like we've seen in the Middle East or the Balkans. The air of preparing and anticipation was exciting...or was that just me ?
It was a fairly long wait for the check-in process, with paperwork to clear for us and the porters (must be really bad in peak season.) Also the porters waited in a line to have their packs weighed, as there is a limit on how much they can carry, which is good, and indicates they were likely mistreated in the past.
Finally we cross the bridge and we start the Camino Inka !!!
There was lots of local 'traffic' on the path, as this is how the locals transport the supplies they got in town (including a case of Coke protruding from the donkey load!)
From the start, views were already gorgeous looking down the valley with the swiftly flowing Urubamba, even in dry season. Many small farms, homes with gardens and a few livestock. We stopped for lunch at a lovely site, with the chickens running around! Excellent cream of spinach soup, chicken salad and a flat bread I've never had before. Very good.
We were pleased that the hike was manageable for us, especially since we hadn't recently done a 7 miler due to circumstances at home, and a week now in Peru not doing anything strenuous. ( I know it's going to change tomorrow!) The trail is not nearly crowded as I expected. Mostly porters, who I just let pass, as they're moving much faster. I wish they all had good shoes, instead of the little rubber sandals! There was a little chapel, which I could go inside of and be as inspired by its simplicity as by the grandeur of the cathedrals.
The environment is mostly dry, reminded us of the American southwest. Some areas had a hanging garden effect with profuse succulent plants. We stop at some ruins ( Edwin gives excellent historical narrative) , and look down on others! Awesome view of Patallacta! At some point later, I turned around to look behind me ( don't forget to turn around sometimes)....and Mt Veronica emerged from the clouds ! We're in the Andes!!!
We are very pleased with the camping set-up: our tent, the tea/dining room tent; the potty tent is clean and well situated. (I had read some negative things in a travel magazine article about the conditions at campsites on the trail. This was not our experience at all on the entire trek.) The campsite was lovely, and not crowded, just us in someone's little farm yard. I would have paid money to see inside the little house, which did have electricity and a TV. At some point in the evening, we heard the young resident say a loving good-bye to his visiting sweetheart....again some things are the same all over....
The trout for dinner was among the best I've ever eaten.
Great Day on the Trail!