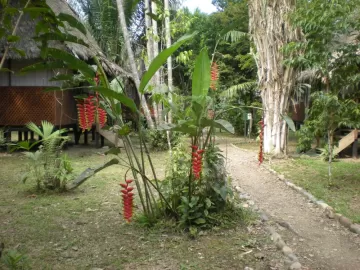 I awoke feeling weak and nauseous from the altitude, so stayed in bed until noon. Dave said the breakfast buffet was very good, brought some nice plain rolls. After those and lots of liquid, I felt better, and we went to explore the Plaza de Armas. The cathedral is beautiful, very ornate, with another gorgeous carved cedar choir. We went over to the Plaza Regacijo where there was some kind of campesino sit-in going on. Dave had seen their parade earlier. It was interesting how many people, especially the women, still wear the traditional dress. I wish I could have read their signs. We had lunch at the Cafe/Bar Cusco. The outdoor patio was very pleasant, but the hamburger they served was barely cooked and we had trouble getting them to understand 'well done'. For an area that gets so much tourism, we were frankly surprised at how little English was understood.
The Cathedral of Santo Domingo was built on the Inca Palace and Temple of the Sun. We visited the museum under the plaza, which houses artifacts from the area. It was okay.
At 3:00, we met our new guide, Edwin. Cusco is his city and he's very proud of his Inca heritage and really knows the history and the culture. He took us inside Santo Domingo showing the Inca walls, and explaining the history of Inca religion, and then on to the expansion of the Inca empire in Peru and South America. This meshed with a visit to the Inca Museum, which was excellent, with more interesting artifacts, better now with Edwin's explanations. He pointed out that Incas were the rulers. The regular people were/are the Quechua. He suggested the Inca Grill for dinner, where Dave had very good alpaca. My appetite is lagging, maybe due to altitude.