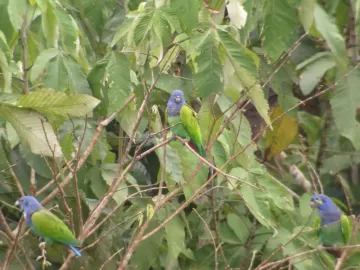 Argh! Woke up sick again, after a very bad night for the digestive system. I decided it was time for the Cipro antibiotic, which we had brought with us. However I took it in the night without reading the instructions to take with plenty of water. This was not a good combination with the altitude, so I woke up very dehydrated, which brought back the altitude nausea from yesterday morning. It was also raining, so Dave stayed in with me. I spent much of the time drinking water, and some of the coca tea which was always available in the lobby. I hate the taste, but lots of sugar helped. By lunchtime, I felt much better. We ate at the hotel. The tomato soup was great, though I only ate a little.
So that afternoon we went to some of the local ruins, which were really neat: Tambomachay, the ceremonial baths; Puka Pukara which may have been a fortress; and Q'enqo with niches and passages carved in to a large piece of limestone, maybe for sacrifices. Very interesting.
On the road to Sachsaywayman, Edwin took us to a very nice shop. It was very geared to Americans, with all of the prices in $$. They gave little presentations on the various products, as to what distinguished good quality. They also had some craftsmen working on the premises. The jewelry and woolen goods are high quality and beautiful, but not cheap. Dave had checked out prices at shops in town and found these to be comparable, so we splurged on hats and scarves. Surprisingly, the shop didn't take plastic!! Nor did they take soles, only US $$, which we weren't carrying. Even more surprising, they let us take our purchases to the hotel, then they came by later to pick up the cash we got from the ATM, which was not that close-by. (Dave was getting a little annoyed over money issues, which he normally handles very well. Tipping recommendations for drivers seemed inconsistent, a shop only accepting $$ instead of soles, and lack of credit card acceptance in such a tourist area kinda threw us off. )
I would add that Edwin caught on quickly that I'm not much of a shopper, and fine jewelry and clothing items were not the objective of the trip for us, so this was the only time he took us to a specific shop. Again, nice to have the tailored tour.
We went on to Sachsaywayman, which was very impressive, and great views of Cusco from the top. It was our first climbing at altitude, which wasn't nearly as bad as we feared, from a breathing standpoint.
We hiked back down to the city. Tired and hungry, we walked around looking at restaurants, and ended up at Ciccolina, which had been in all the guidebooks. Like other restaurants on the Plaza de Armas, it was on the second floor, with window tables offering a nice view of the plaza. It was a little fancier than what we were up for, but the food was excellent, among the best of the trip. I had the alpaca in pepper sauce. The serving was big enough for two people.