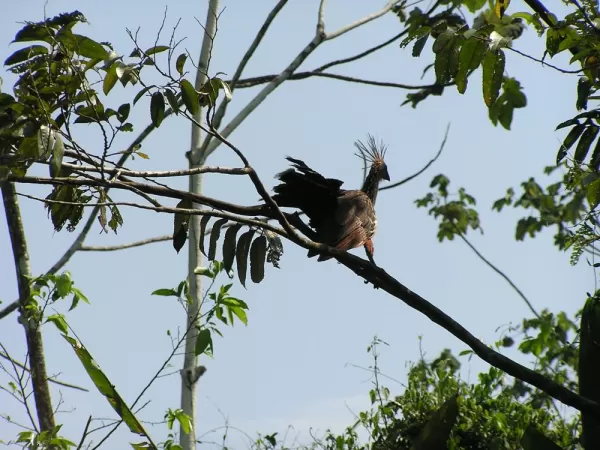 I'm writing this on the 2nd, because after the toughest day on the trail, as it's billed, I was too exhausted to write, but WE MADE IT to Dead Woman's Pass!
To start the day, we were awakened by roosters right outside the door of the tent! After breakfast of French toast, we were eager to get started.
Edwin knew our pace, and knew that I didn't want to be in the way of other faster hikers. He quickly developed a strategy of leaving a little later than the younger faster groups in our vicinity. This was great.
(Note: in the AM, there was some confusion about the guidance we had been given by A/L regarding water. Maybe because the porters are now required to carry propane instead of white gas to cook with?...and let's face it, propane is heavy...whatever, they weren't planning to boil /sterilize as much water as we were expecting (to fill nalgenes morning, noon and night). Edwin told us to purchase water, which was available at the campsite. At least he negotiated down the price they were asking. It was just annoying because that hadn't been the instructions...)
After breakfast, we were formally introduced to the porters, led by head cook Augusto, and his 5 helpers. They gave their names and ages, which ranged from 21 to 47. I asked them how many children they had...17 between them.
Can I just say what a luxury it was to have these porters, beyond their carrying everything. We would arrive at camp tired. The tents were already up, with our bags and sleeping gear inside. Shortly after we got there, (and first thing in the morning), we would have our 'Inca Spa', a bowl of hot water to wash up with, delivered to our tent door. We rented A/L sleeping bags to save on baggage space. I generally don't care for mummy-style bags because they're so darn hard to stuff into the sacks. The porters did it for me! All of the little attention was really great.
Dave said it was the hardest hike he's done...and he's done a lot. I was so pleased with us. We couldn't have done it without the training and the practice. Edwin said we did better than he expected, and the best compliment was that he could tell we had practiced. On all of those very irregular steps, there's more to it than just endurance. And though we certainly didn't see this as a race, we were pleased that we weren't the last ones to make it to the Pass or the campground. No one I saw was hiking fast, recalling a young woman, whom I let pass, who with much stress remarked, 'I'm going so slow, but it's still so hard.'; That pretty well summed it up.
As we climbed, we passed through different micro-ecosystems. Saw a beautiful large bright green hummingbird, right up close. The views were awesome! Beautiful! and waaayyyy down......It was the last we would see agriculture, llamas and sheep.
(I have to say that the path could use a few more toilet facilities. There's very little, if any, cover to go behind, and there are just enough hikers and porters passing.... Up at the pass, Edwin pointed to a 'place around the corner', which was well hidden. It wasn't totally disgusting, but obviously lots of people had to use it, and they leave their paper, and it was smelly. I understand they don't want to mar the landscape, but surely there are options. They need to accept the realities of the users who, due to altitude and exertion, must drink a lot of water!)
At the pass, a little man playing the harmonica was totally precious. I was touched, and enjoyed the sound of his music in that surrounding wide space. I gave him our trail mix, which he said he would take home to share with his wife! I teared up again....
The Pass is indeed the great climax of the day,....but then you realize you're not done yet. Lots of steps down...but the scenery is stunning, including a waterfall. We were way glad to make it to camp. Augusto prepared cheese wontons for tea, which were great....but I was really too tired for dinner, which was semolina soup and chicken (we asked him to hold the curry sauce, which was easy because he was preparing everything on the other side of the tent partition!)
At this campsite, the groups were much closer together, however our crew did an excellent job of situating us, so that we still felt to ourselves. An older couple from one of the other larger groups actually came and looked around our accommodations. I think they were jealous of our Adventure Life arrangements, and probably our small group!
I would also note that Edwin has so much experience as a guide on the trek, that after that first test hike back at the Cusco ruins, he had some idea of how we would do. He felt it was his job to hang back with me hiking slowly, but I don't like someone right behind me, and I'm accustomed to being well behind Dave, so I just told Edwin to go ahead, which he did, and it was great because I often had the trail totally to myself...beyond my wildest dreams for the Inca Trail! Again, thank you Adventure Life for enabling this kind of experience!