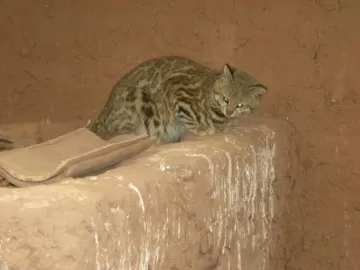 Interesting, beautifully scenic day on Lake Titicaca to the islands. The group guide was excellent, energetic. We were the only ones with our own additional guide, Javier, a young man, native of the floating reed Uros Islands. These were so unique and great to experience ! They really are just like the old pictures ! ( I had wanted to see these islands since a picture in my third grade geography book !) Javier gave a good presentation on the lifestyle. We saw them raising fish, ducks, and they even invited us to see inside their homes. There is a school, though by high school, Javier was riding his motor canoe 2 hrs to the mainland. They were proud to show us their culture, and had beautiful crafts for sale. The one anachronism was the solar panel enabling a boom box and a TV.
Then another 2 hours on the boat to Taquile, which was pretty for the views, but frankly a little disappointing (or was I just saturated by now ?) The craft market didn't seem as special as promoted. The highlight was lunch at a family home restaurant: trout, fries, and the best Quinoa soup of the trip. There was also trout drying on a line...trout jerky ?? Javier gave another presentation on their special traditions and customs, which they're holding onto. Both islands have old mores, isolated cultures. I'm guessing it will dwindle quickly. There was not electricity, but a teenager was talking on a cell phone....
It was a long boat ride back. Everyone slept.
Back in town, dinner was excellent pizza at Ukuku.
Thanks to a cancellation, Eduardo did find a room for us to say at the Q'elqatani tonight. Then critically, we're checking with Eduardo for our transfer schedule on Sunday morning, only to find that LAN had canceled our early flight on Sunday, and re-booked us on a later one, which will not get us to Lima in time for our connection ! Why were we not notified of this change ? I had checked my e-mail, where there was nothing. These internal flights had been booked by the Excito Travel Agency for Adventure Life. Wasn't it someone's job to notify us of such changes ? I've been spoiled by Orbitz. Even if I had thought to call LAN, I'm not sure I could have communicated with them. I was sitting there with Eduardo as he was on the phone with them. He kept getting cut off, and was unable to get immediate confirmation of re-booking. They didn't charge for the flight change, which I also credit to Eduardo. Thank goodness we had him to do this for us, still working at 8:00 pm.
Tomorrow we'll be in Lima. Good thing we didn't stay on Amantani, or we would have had no knowledge, and making the necessary changes would not have been possible.
There is a group of schoolgirls in the hotel tonight, noisy in the hallway (only briefly). Even in a language we did not understand, they sounded the same as at home.