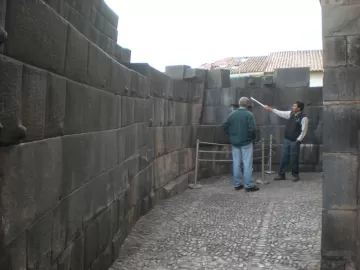 Best breakfast buffet at El Mapi, great selection.
Dave's feeling better, thank goodness, so he could enjoy the day.
It was raining so Edwin, took us into one of the huts where we could sit covered, with the perfect view overlooking the entire landscape, while he explained all of the history. Then the rain stopped! Some lingering wisps of clouds added to the atmosphere, and Edwin gave us the tour, which was really excellent. There were plenty of people, but not overrun, and we still beat the worst of the crowds. Again, MP lives up to its press! So many people come here, because it is truly a great sight to be seen. Of course it's on everyone's list!
After 2-1/2 hrs. with Edwin, he offered us time to explore on our own, but we felt like we had seen so much, and had had enough. We were tired of climbing, and Dave still was far from 100%. Thanks to Edwin, we didn't think we missed anything. Perhaps if we had added a day to rest at Aguas Calientes, I think then we would have wanted to climb around and explore more on our own, but it wasn't necessary.
Back to town for lunch at the Inca Wasi, another of Edwin's restaurants,which was very nice. We had the steak, which was excellent. After two weeks of too much food in restaurants, we finally figured out to order one plate and split it.
Lots of souvenir markets en route to the train station (where the public facilities were amazingly clean!) We were on the Vistadome train, one class below the Hiram Bingham luxury train. I thought they provided good service, including a snack. Nice views of the mountains from the bottom of the valley this time. Sheer verticals, and formations, reminded us somewhat of a 'younger Glacier Nat'l Park'.
Then to Ollantaytambo to pick up our bags, and a lovely van ride over the hills. In the beautiful clear sky, late afternoon light we still weren't tired of the scenery. Edwin stopped to buy some chicha to take home to his mother! Amazing number of corn varieties hanging inside the house.
Back to the familiar Taypikala, it felt almost like home ! We bid farewell to Edwin. He is a true professional at what he does. We appreciated so much the extent of his experience and depth of knowledge about the Inca history and culture. I don't believe a guide could be any better than Edwin.
As we walked down the Ave del Sol to find dinner, there was some group of adult folk dancers practicing in the parking lot of the Ministry of Justice. Even without costumes, it was great watching them, and again this wasn't just a performance for the tourists, so to me much better.
There were menu hawkers all over the Plaza. The Embardero girl won. The trout was excellent.