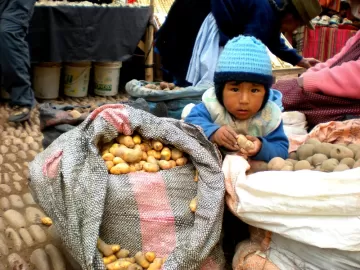 We had this morning for some sightseeing, but the Coca Museum was closed for a Peruvian national holiday commemorating a 19th century naval battle with Chile ! (Wasn't on my radar at all.) I did get to light a candle in the Puno Basilique, upgraded by Pope Paul in 1963. At some point, there is a parade around the square, this time of the children's soccer teams, complete with soccer moms! Aren't they cute !
We found excellent empanadas for lunch, which was a good thing because dinner was a long way off. While waiting for our driver, we helped the hotel owner string cans for his about to be married nephew's car!! What a personal sharing! So Eduardo is still working on my Lima arrangements, when he needs to be getting to his cousin's wedding!!
On the way to the airport in Juliaca, about an hour away, we enjoyed beautiful views of the lake and some farewell pictures. Eduardo calls the driver to give me the name of our transfer agent and hotel in Lima. No problems at the airport, though there was no place to eat. We sat for a long time, as the plane was late, though there was live musical entertainment at the departure gate! I've never seen that before!
We flew over beautiful high mountain scenery to a stopover at Arequipa, then 1-1/2 hrs to Lima. No problem finding our transfer, but Miraflores is a long way from the airport. We're told we need to be at the airport 3 hrs in advance tomorrow, so 9:45 pick-up won't leave much time in the morning. Maybe we should have saved time by staying at the airport hotel, though then again, we will be able to see the Pacific!
Eduardo calls the driver to tell him about the crazy cash payment situation at the hotel: they couldn't take our credit card because the Internet wasn't working because of the holiday !!?? Our driver was able to work it out. Again the staff was very friendly. The MiraforesColon Hotel was 4 star hotel, a little fancier than we'd had, but not nearly as charming as the others we had stayed in. It didn't matter, though. We were just feeling very fortunate that Eduardo was able to make these arrangements for us.
It was late, and there weren't restaurants close by, so we just ate there. Unfortunately we were behind a large, loud tour group. As noted earlier, food is cooked to order, and we sat there a long time. The poor waiter was very apologetic, though it wasn't his fault. When we finally got our meal, the chicken was very good.
Long day, exhausted by the concern and logistics of itinerary change .... the bed linens were exceptionally pretty and it was all very comfortable.