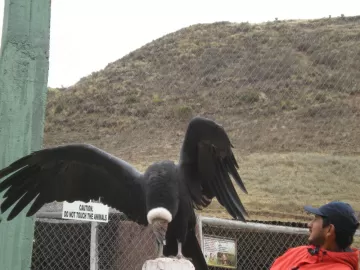 Thank goodness, Dave is much better today. A day on the bus will not be too taxing. We said 'adios' to the Taypikala, which had served us well. The staff were always friendly and helpful, though note, they offered, and we gave them postage money to mail postcards for us. That was never done.
Jose picked us up, drove through the newer section of Cusco, to the bus station where we would pick up the Inka Express tour bus. The guide on the bus was very good.
It was a long ride, but the stops were interesting. We were more off the beaten path, and stopping in places where they're obviously trying to bring some tourism $$. Much of it is not even mentioned in most of the guidebooks.
First to Andahuaylillas, to see the church. The decoration was not as ornate as we had seen, but the painted front and ceiling to the portico were beautiful. It reminded me of places in Europe. It was being restored. There were large, hedge size geranium bushes in the garden. Then we stopped at Ranqui. Dave went to look at the ruins, while I did a little shopping at the stands in the square. I also enjoyed watching the kids at recess in their school yard, and a herd of sheep that just passed by on the street !
Lunch was interesting and good in Sicuani, at a buffet restaurant designed for the tour buses. It was a very pleasant atmosphere with good food and a band playing music.
Back on the road, we crossed the high pass at Abra La Raya, which was breathtaking. There was one more town to visit, Pukara, where the museum had a good display of pre-Inca monolith statuary. It was also interesting just to sit and watch the action in the main square of the relatively quiet little town. What all gets carried on bicycles and tricycles, and variations thereof. There were local woman crowded around a large truck, which was buying and loading whatever was in their large bundles ??? It looked like straw, but was obviously something more important than that.
Now we were in the ranch land;the shepherds, what a lonely life. Broad expanses of fields, wide open spaces, high plains between the mountain ranges. We see llamas, alpacas, which we've not seen as many of as I expected. There's not much traffic, mostly trucks and buses on this excellent road.
Juliaca and Puno both felt like the wild west. Though dusty, they appear to be thriving, but something in their tax code, says that the property tax isn't paid on a house that isn't finished, so large majority of those outside of the old town centers, even though obviously lived in, are bare bricks with re-bar sticking out the top !!
After the seven hour trip, which was comfortable and went by quickly, we arrived at the bus terminal where we were picked up by sweet Maria, who took us to the Q'elqatani, which was especially charming. It is family owned, and they care about their culture, their history, their business, and their service, which was very warm .This was my favorite hotel of the trip. It was so comfortable, and had so much character. With still some aching knees, the elevator was appreciated, too. (This was the first A/L hotel that had one.)
We decided to not do the family stay on Amantani Island as planned on our itinerary. We were tired, and Dave was still not feeling 100%, so we needed a comfortable room with a bathroom,a good bed, and reliable food preparation. We immediately asked the manager, dear Eduardo, if we could spend the next night there. He wasn't sure, but would check into our options. He also asked for our flight arrangements, so he could work on getting our airport transfer two days later. Tomorrow we'll go to Uros reed islands, and then because of the boat schedule, we'll go to Taquile, which had been scheduled for Saturday, which is now an open day. Eduardo has many suggestions for what we can do.
We had dinner at the hotel : excellent cream of corn soup, trout.