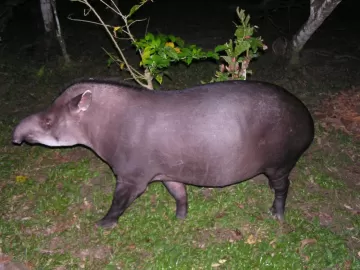 The night wasn't as cold as expected. Breakfast was pancakes with elderberry jam!
The day started out rough. I had read so much about Day 2 being the hardest and that it was supposed to be easier after that. I had mentally focused on that goal, and not thought enough about also having what was for me significant climbing to do. The first few hours were on steep, high steps. Of course yesterday the prolonged steepness and the altitude were difficulty factors, but for me the hardest part was all of the steps, up and especially down. This morning, my mind wasn't in the right place for more steps, and for the first time, this wasn't fun. Being socked in the clouds without a view didn't help. I took a lot of pictures of the flowers by the path. But then eventually I reminded myself that I wasn't a refugee or hiker seriously lost....I wanted to be here.
So I was much better by the time we got to the Runkuraqay Pass, and it improved from there. The trek is a mental exercise, as well as a physical one.
Lunch was beef saltado, and it started raining pretty hard. We were a little worried. Yesterday when we were going down all the steps, I had thought how nearly impossible it would be for me if it were raining! Fortunately by the time we were ready to get started, it had lightened up, but still wet enough to try out my not-that-fancy rain gear, which worked out very well. Coming upon ruins in the misty jungle was just really cool!
We decided not to climb up to Sayacmarca. With the clouds, we would not have had a view, and more importantly, I felt I needed to save my aching knees for what wasn't optional. The path was wet, not as bad as feared, though the Inca Tunnel put us on our butts, because the steps were so worn and very slippery. Some of the path was along a ledge, (Dave doesn't like shear faces), but the thick vegetation helped. We spent the entire afternoon in the cloud forest. It was so lush, with such a diversity of plants because of the changing altitude. Gradually the clouds started to clear, come and go......the scenery that peeked (or peaked) through was breathtaking. My camera wasn't enough to capture the vast forest panorama against the misty mountains.
At some point we got a glimpse of Aguas Calientes....way down at the bottom. We had a ways to go.
Literally and figuratively, the absolute high point of the day was arrival at the campsite, which was absolutely spectacular! an overlook point with the snow/glacier capped mountains all around us. It was here that the A/L postcard I've had at my work desk for the past year was taken..and this was even better than that ! There was a rainbow (which Edwin said was unusual). Every direction was gorgeous, awesome scenery! Contrary to previous comments, we were inspired to walk up to a higher point to see it better. I was filled with awe and delight.
Dinner was okay: spaghetti, quinoa soup.
There was a precious moment of appreciation to our porters: Augusto, Christolo, Manuel, Mario, Ronald, Tadeo, as this was our last night with them. They were so great. My tribute to them was that they performed their laboring jobs so well, with pride and dignity and smiles. We couldn't have done this without them.
The universe was before us. Wish I were a better astronomer...; too dark to read the star chart. There were so many stars, so much of the Milky Way and beyond, it was hard to pick out a common constellation like Orion which totally dominates my home sky. It was very cold, but a great night. When I got up in the night, the moonlight was illuminating the glaciers, absolutely breathtaking!