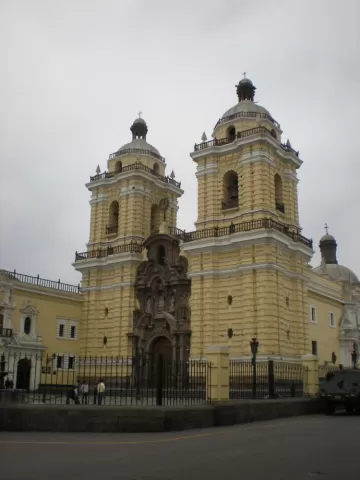 Back to the river! It's the beginning of daylight. It felt good to get moving on the nice little walk to the macaw lick. We are in a large covered blind along with a group of serious photographers. It was plenty large enough to accommodate all of us without interference. Everyone is very quiet.
Breakfast is served, as we wait for the birds to gather. There are some monkeys in a distant tree (I should have watched them longer, as that was one of the few views of monkeys we were going to get), but we were there for the birds coming to the salt lick, which looked like a large eroded river bank.
First there were the green parrots on the lick, a few macaws in the trees above. Nature requires a LOT of patience. Gradually the group of macaws increases more and more. Finally one moves to the lick, then another, and another. Eventually there were at least a hundred of the brightly colored macaws in the trees and on the lick...and this was REAL. I kept reminding myself that this was not a zoo/wildlife park or a Disney construction. These birds were in their true habitat. (Before the trip, in an old National Geographic, Jan. 9, I had found an article by Charles Munn, who was the first to extensively research these macaws in the wild. He discovered this macaw lick, and developed the travel facilities around it. He's a true expert in the field. The article was very helpful). Another thing that really helped was that Enrique carried a large, high quality telescope. He knew what he was looking for in the trees, found things for us to see, and enabled us to see everything up close. He also knew how to use it with my little digital camera, so I have close-up pictures of the birds.
Enrique was a fantastic guide. He was truly expert in knowing about what seemed like everything we saw: trees, plants, insects, animals, and he pointed out and explained so many things, that I would have missed. The giant sacropolis, kapok trees, ficus trees ( I had to laugh at something we use for indoor decor, here being a huge tree). My husband, Dave, who builds models, had never seen a balsa wood tree, and he still wouldn't have seen it without Enrique.
Lunch was chicken, rice and beans, a coffee flavored torte. All tasty, though the rice is made with olive oil, which I didn't care for. Enrique was very interesting to talk to, which was good, because it was just the three of us at meals. It was truly a luxury to have this adventure to ourselves, at our pace, focusing on our interests. Thank you Adventure Life for offering this type of opportunity.
After a much needed nap, we explored the grounds. The gardens are beautifully landscaped, but not too much so, with beautiful flowers and plants. We were always hearing birds, especially the oropendolas, which were so distinctive. I had never heard anything like their beautiful call.Then it was off to the jungle again, with another nice little hike to the tapir blind.
The center kept a schedule board for all of the guides, which allowed them to coordinate where they were going, so throughout our stay, we and the other groups there were never in the same place. This was excellent.
Enrique warned us that there was only a 10% chance of seeing the tapirs. (This rather surprised me, given what I had read about Manu). So we get to the blind (which had soft beds with nets, etc. If we had had another night, I would have slept there). And it gets dark....and there's nothing to do to pass the time, with lights out, barely talking at a whisper...and we're waiting for an animal to arrive...and it doesn't. There are some bats... I start to get disappointed....but there are so many SOUNDS ! And Enrique knows them all, from the insects (like cicadas sounding like a piercing dental tool), to the birds (like tiger heron sounding like a truck), to the monkeys, frogs, many owls, etc., etc. I watch and hear darkness overtake the jungle. I've camped out a lot, but there was something different about this because, there was absolutely no distraction, no intrusive sounds or lights. Though obviously not preferred, I can see wild animals at the zoo, but only out here can I truly experience this environment and it's (or its) magic!
We hiked back in the dark, which made worry-wart me a little nervous, but soon the adventure took over, and there was still plenty for Enrique to point out: two large frogs, (one on the ground and one on a branch), and another small one. (How does he find these things?) All day we had noticed different colonies of ants: army, bullet, leaf-chopper. Tonight the leaf choppers were very busy carrying the pieces of leaves in an endless column across the path. Enrique also pointed out an extremely large roach, and a large white arachnid: half spider, half scorpion. We would have overlooked all of it without Enrique.
It was great to have hot water when we got back to the cottage. How romantic, sitting there in the candlelight, in nothing but our towels, eating delicious apples peeled by pocketknife!