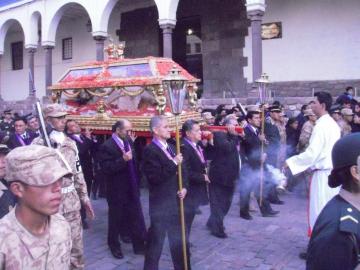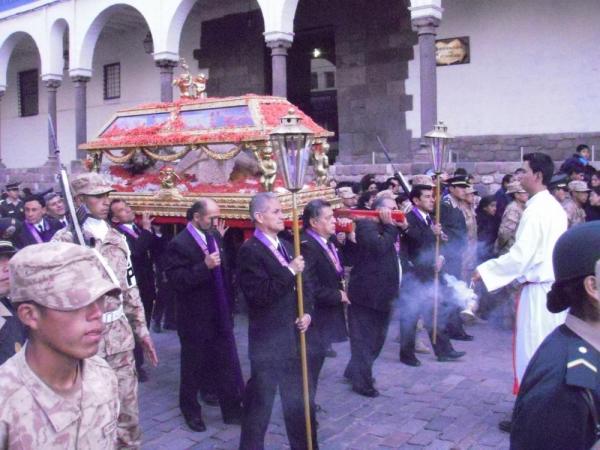 We boarded LAN Airline for our flight to Lima. The airplane was a sweet 767 and very clean. Each seat had a TV monitor located on the back of the seat in front of you and had a great selection of programs to choose from at no cost. I didn't watch any programs but listened to some new age music to help put me to sleep. This was the first time in a long time that I actually had a meal served to me on the plane, again at no extra cost. I hated eating at 2:30 a.m. but what the heck, we're on vacation. Dinner was delicious, stuffed shells, salad and desert. We both slept most of the way to Lima. We woke up when we heard the pilot's announcement; I don't know what he announced because it was in Spanish, but it must have had something to do with landing because all the lights came on and everyone was putting their tray tables and seats in the upright position. We landed and that's when the fun started.
The Lima airport did not seem as large as Dulles or Miami but it did have all the conveniences of the larger US airports; Linda was really excited because they had a Starbucks. Getting through customs and to the departure gate was a challenge. Remember, international flights now become domestic departures and our Spanish is very limited. Processing through customs went smoothly. I came to a money exchanged window and exchanged approximately 200 US dollars for Peruvian Soles. I do recommend getting small bills, nothing higher than a 50. 20 or 10 Sol and as much coin as possible because it makes it easier for the merchants to give change. (I only found out about the small bills after we met up with our guide Ayul.) When we came to the window to pay the airport fees, the agent gave me the price in both Soles and US dollars, since I was excited to spend this new type of dinero, I paid the fee in Soles. I don't remember how much I paid but I do remember getting a few bills and some coin back, I really should have paid closer attention to this transaction because I probably paid more than I should have or I didn't receive the correct change; I didn't loose any sleep over it though. We finally made it to our departure gate (Puerta) and waited for our flight to Cusco. I did find a little snack bar that sold sandwiches, cappuccinos and coffee (café). The clerks didn't speak English and it appeared to be at a change of shift; lots of confusion when I placed my order. I ordered a cappuccino for Linda and a café for my self. Since I was lacking in confidence to pay my bill with Peruvian Soles, I decided to try to use my credit card as I observed the person in front of me had done. My purchase went through with no problem and I was only charged 6 US dollars, not bad for a cappuccino and a café. When I got my order all I received was one 4 ounce paper cup ½ full of espresso and a hand full of sugar packets. I tried to ask about my other cup and they just smiled and nodded, so I reordered another café. I paid again with my credit card and all I received was a 4 ounce paper cup ½ full of espresso and a hand full of sugar packets. Total cost for 8 ounces of espresso and two handfuls of sugar packets, 12 US dollars; memories, endless. We boarded the plane for the final leg of the journey to Cusco.
The flight from Lima to Cusco took about one hour. Looking out the window of the plane, all you could see was beautiful clear blue skies with mountain tops poking through the white fluffy clouds but not a rain cloud to be seen. It looked like a beautiful postcard. We had heard of torrential rains that they had experienced in Peru just weeks before we were scheduled to arrive. We discussed the possibility that the weather would not be in our favor and almost expected for bad luck to curse our trip. To the contrary it was a breathtaking sight as we approached Cusco. We landed and headed to the baggage claim area where we encountered the first hiccup of our trip. When we checked in at LAN Airline in Miami I asked the ticket agent if our luggage was checked in all the way to Cusco, and he confirmed it was. In retrospect I don't think he really understood my question because his first language is not English. When we landed in Lima we went straight through customs with no problems and checked in at our departure gate to Cusco. After landing, we went to the baggage claim to pick up our luggage, but quickly learned that it did not show up. We checked with the agent working at the counter and she informed us that we needed to claim our bags in Lima since they came off an international flight and needed to have had them rescreened for the domestic flight to Cusco. We located our guide, Mr. Ayul Acuna, waiting outside holding a sweet sign with our names and the Adventure Life logo. We explained our dilemma to him and he immediately helped us communicate with the agent at the airport. We were told our bags might make it today but would most likely arrive tomorrow. After we completed all the paper work to have our bags transferred from Lima to Cusco, Ayul took us to our hotel, the Casa Andina – Koricancha
The Casa Andina – Koricancha is one of several Casa Andina hotels located in Cusco. The lobby and common areas of the hotel were very clean and comfy. The hotel clerks and staff were all very polite, always smiling and they greeted us in both Spanish and English. They had a small dining area that was used for a continental breakfast served daily from 6-10 a.m. After Ayul helped us check in we sat in the lobby and did our formal introductions. He answered any specific question we had and briefed us on our upcoming adventure. In the lobby he pointed out a pot of hot tea and said that we should drink as much as this as possible because it will help alleviate some of the side affect of altitude sickness; I think it was coca tea. By now we had been traveling for nearly 30 hours straight and were anxious to take a short break and unwind. We planned on meeting back with Ayul in the lobby in 2 hours. Once we got to our room we realized that all our clean clothes were in our luggage back in Lima so we settled on splashing some water on our faces and headed back to the lobby to wait for Ayul. We were excited to start our adventure and to drink some more coca tea. While we were waiting in the lobby a local woman came to the window walking her Llama. She motioned for us to come out and take a picture. Linda was all for this so I took the picture and the woman immediately stuck out her hand and mentioned something about Soles. I reached in my pocket and gave her some coin. I still wasn't familiar with using the Peruvian money so I don't know how much I gave her. Oh well, you learn fast that the local merchants want to sell you everything. This is why it's important to have as much change as possible. Coins are the best type of Soles to have in your pocket. The ATMs and money exchange stores always give you large bills of 100s or 50s and sometimes 20s Soles. If you ask at the money exchange store they will usually exchange the larger bills for 20s and 10s but they're not likely to give you coins. The large bills of 100 and 50 Soles are not very practical when shopping for souvenirs or in the small stores because the venders have a hard time breaking the larger bills at their stands. Many times if you give them a bill greater than a 20, they usually have to run out somewhere to get change. Coins are broken into 5 Sol, 2 Sol, 1 Sol, .50 Sol, .20 Sol, and .10 Sol. The 5, 2, and 1 Sol are great to have in your pocket. If you do have larger bills you can usually get rid of them in restaurants.
After reuniting with Ayul we walked around a few shops and then grabbed something to eat at a small restaurant. We ate fish (trout) which was very tasty, even Linda who is not a seafood fan, enjoyed the food. After dinner we stayed to watch the religious procession that started at the main cathedral and marched around the square. The entire town seemed to be involved, the firemen, schools and woman's groups. Linda was not feeling well due to the altitude and we where both tired from our journey to get there. We called it an early night and planned on meeting Ayul in the lobby at 9 a.m. to start a full day of sightseeing.