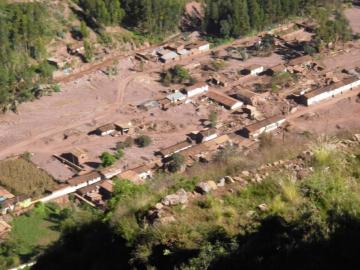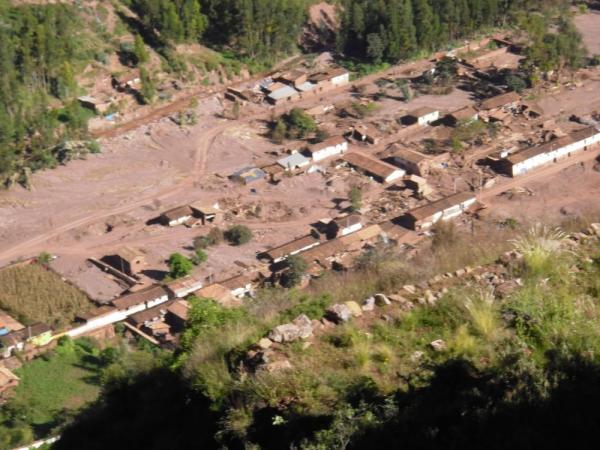 Our day started with a 5:30 am wake-up call. We grabbed our duffle bags, day packs and the bag we packed of clean clothes that would be sent ahead to the hotel in Aguas Calientes for our night there. We left our suitcases in the lobby because they were going to be stored in the office while we were out on the Inca Trail. We would pick them up on our way back to Cusco. We met Ayul in the lobby at 6:30 a.m. and had a filling breakfast consisting of pancakes, cereal, fruit and American café. We had a great discussion with Ayul over breakfast about the qualifications of becoming a tour guide. He explained to us that there were two different ways to become a tour guide: 1). You attend the University and get your Bachelor's Degree in tourism or: 2). You go to a technical school and become a certified tour guide. He attended the local University where he got his Bachelor's Degree in Tourism. This degree qualifies him to be a tour guide and manage a hotel. He continued his schooling and received another degree in anthropology. Ayul speaks three languages fluently: Quechua, Spanish and English. He can also speak with an excellent Australian accent. He has been a tour guide for almost 20 years and up to this point he has made our adventure exciting.
Our van that was going to transport us to kilometer 82, the start of Inca Trail, had not arrived yet so we toured part of the city of Ollantaytambo. We visited one local family still living in a one-room, stone house with a thatched roof. A family of 4 lived there and still slept on the floor. Inside the house they were raising guinea pigs for food. There must have been 35 of the little furry creatures running around my feet when I walked through the house. There was also a duck living in the house. The Quechua people, being very spiritual, fend off bad spirits by keeping the skulls of past ancestors inside the house. This particular house had 2 skulls decorating a shelf. There were also various items that looked worthy of being displayed in a museum, but instead were strewn along a mantle over the fire pit, with no particular care.
After we left the house, we headed to find a coffee shop to enjoy a Cappuccino and American Café. The first one we found was called Incabucks (sounds like Starbucks), but unfortunately it was closed. We did find a restaurant that was open and sat down for cappuccino and café. We made it back to the hotel and sat on the wall to watch the morning activities of the village. It was around 8 a.m. and most of the shops were just opening for business, the school was open and streets were full of children scurrying down the road to school. There seemed to be more foot traffic then auto traffic at this time of the morning. It was not unusual for children to walk miles to school, after they've already walked several miles to take the livestock to graze while they're away at school all day. When the school day is over, it is their chore to collect the livestock and take them back home. Many miles are accumulated on a typical day. While we were sitting outside, our porters showed up followed by our van, we did the formal introductions and loaded up and headed to kilometer 82. Due to the damage to the railroad tracks between Ollantaytambo and Aguas Calientes, everyone going to Machu Picchu either by train or trekking the Inca Trail, had to drive down a narrow dirt road to get to the train station, or kilometer 82. Because the road was so narrow, only one vehicle could go in either direction at one time, no passing. The Peruvian park service devised a time schedule allowing vehicles to go only one way, in each direction, every other hour to remedy this situation. We were in the 9:30 time slot to head down the road toward kilometer 82.
Once we arrived at the drop off point we all rallied in an open field. The porters divided up the weight between 6 of them and repacked their bags. Meanwhile, we put on sunscreen and bug spray. We grabbed our day packs and headed down the road toward kilometer 82 to our first check-in point. It was approximately a 20-minute walk from the rally point to the check-in point. Once we got to the check-in point there was a long line of trekkers trying to process through and cross the bridge to the start of the Inca Trail. We stood in line for approximately 45 minutes before we were able to process. We were required to show our passport and our Inca Trail Pass. Ayul, on the other hand, was interrogated by the park ranger. He had to empty his backpack and produce all his safety and first aid equipment. All guides are required to carry oxygen to treat severe altitude sickness, first aid supplies for injuries and medicine for illness or infections (including traveler's diarrhea). I'm sure glad he had that medicine with him because it came in handy on the third day of our trip. The porters also had a long delay getting through their check point. All porters are required to weigh their packs before starting on the Inca Trail. Porters may not carry more than 45 pounds when they start on the trail and were required to weigh in again on the beginning of the 2nd day at one of the check points. They must weight in at the end of the trail to include all the garbage; whatever you carry in you must carry out.
It was approximately 11 a.m. when we were standing in front of the bridge to start our trek of the Inca Trail. We snapped a few pictures in front of the bridge and then crossed the Urubamba River on our first leg of our journey. The trail on the other side of the bridge was dirt and started immediately uphill. We walked for about 20 minutes, then decided to try our trekking poles. Somewhere along the way I lost one of my rubber tips from my trekking pole. Rubber tips are required on trekking poles when hiking the Inca trail so the natural terrain is not disturbed. Ayul assured me that it would be alright to use it without the rubber tip until we started the 3rd day because the trail is all original. This was our first time using the poles and mine was broke…I found out that Ayul is a jack of all trades because while we were walking he took my pole apart and fixed the inside lock washer. We hiked for about an hour when Ayul showed us how to properly use or poles when going downhill; city folk. The first part of the trail was fairly smooth and the terrain was rolling. Along this part of the trail there were several houses inhabited by the local farmers. Even in this remote location, these farm houses have electricity. It is amusing that we pay good money to trek the Inca Trail and yet the local people use the same trail for their day to day routine. We walked about 2 ½ hours than stopped for an afternoon snack, which our chef packed for us in the morning. The rest area was a little store in a wooded area that sold water, Coca Cola, Gatorade, and Chica (corn beer). The rest stops are more for the porters so they can rehydrate and get some food because they're burning more calories than we are. They're typically carrying 45 lbs. and we are carrying maybe 10 lbs; they run the trail and we walk. Ayul told us that after this day we will not see any more stores or villages on the trail. There were several other tour groups that stopped at this rest area while we were there. We packed up and started heading for our fist camp site at Huayllabamba. Ayul and Mario, the head porter and cook, were in contact with each other via two-way radios. Mario radioed Ayul and said they finally made it thought their check-in point and were coming up the trail behind us. Within minutes they caught up to us and, in a blink of an eye, they were out of sight. We arrived at our camp, Huayllabamba, sitting at 9,700 feet, around 5p.m. to find our tents and kitchen already set up. A snack was waiting for us in the kitchen tent which consisted of spinach soup, toast, peanut butter and jelly, crackers and tea. This snack was filling enough to be dinner but we were told dinner would be served around 7 p.m. We finished setting up the inside of our tent and then relaxed for about an hour. Mario prepared a supper of pan fried trout, mashed potatoes and mixed veggies. This meal was OUTSTANDING; we promoted Mario from cook to chef. The evening temperature was mild and the skies were clear, perfect for gazing at the stars. Ayul had his book on the constellations so we were able to pick out many of them. The longer we looked into the sky the more stars appeared, millions upon millions of stars dotted the sky. I have never been able to view the vastness of the Milky Way because of the background glow of city lights. The only light to bee seen was the lantern from our kitchen tent and the beam of a flashlight from the camp sights below us. We called it a night at around 8:30 because tomorrow was going to be the big climb. This was our first night sleeping on the ground in a tent in a VERY long time.