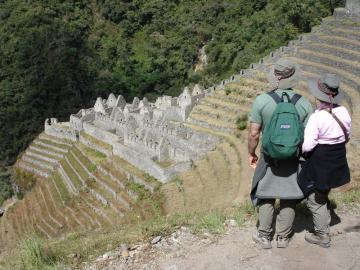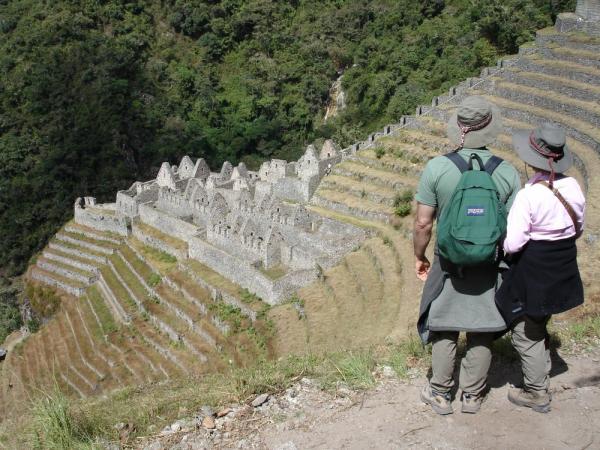 Today we got up early to see the sunrise. We stop at the entry gate to get the tickets Marco left there for re-entry and climb up to the guardhouse. Although there are a decent amount of people there, we get a great spot to take pictures. Soon we noticed on a lower plaza a pachamama ceremony was beginning. Apparently it is the second anniversary of Machu Picchu becoming one of the new Seven Wonders of the World and we witness this celebration with a shaman giving offerings to the earth at sunrise. Everyone is dressed in traditional clothing and then we hear musical notes sounded through shells. This ceremony, with the rising sun on Machu Picchu, seemed like a true magical moment.
We take a handful of classic pictures, and slowly work our way down to breakfast and to checkout of the Sanctuary Lodge before Marco comes for our full day tour. Once again, it seems our luggage is to disappear from here and to re-appear down at Machu Picchu Pueblo Hotel. Not always the trusting soul that I am, I am beginning to fall into the groove that things might happen here as they say they do. After breakfast, we meet up with Marco and start our tour. There are so many things to learn about this site. It is much more than a bunch of stones. Marco shows us where the medical area may have been, takes us to little toured areas, shows us hummingbirds in the stonework, gives meaning to this site. Oh, and yes, while listening to another tour guide tell his group that this was where the Incans buried their kings standing up after Marco taught us that the Incans buried their dead in the fetal position, we had another "thank God we have Marco" moment.
After seeing this stonework, we have a huge respect for the difficulty and the suffering it took for this site to have been completed without modern tools. It remains a mystery.
There is talk at lunch that there will be a strike tomorrow that will affect transportation. We hear of other travelers juggling their plans around to accommodate it. We mention it Marco after lunch. He says that it was to be a three day strike, but now only it will be a one day strike. Normally I would be freaking out by this. However, I figure that between Marco and the affiliates we met when we arrived, we are in good hands and they will figure something out for us if necessary. What happened to the control freak I used to be?!
Marco informed us that Machu Picchu means old mountain and some of the special sitting areas set aside were for the Machus, or the elder folk. So we made it a point to rest at these designated Machu points as we are not too far off age wise! We've spent the entire day at this magical site and now are ready to go down to Aguas Calientes.
The bus ride down is hairy but quick and we take a quick walk along the train tracks right into a garden of eden called the Inkaterra Machu Picchu Pueblo Hotel. This is a secluded garden paradise. Marco gets us signed up for a few bird and nature walks in the morning while we drink our complimentary pisco sours and we get checked into our room. Once again our luggage has magically re-appeared in our room. Marco will come back in the morning to see if we want to return to to Machu Picchu if there is bus service or if we want to do local hikes, so we say good evening to him. The grounds here are beautiful. We again have a wonderful dinner and sleep soundly.