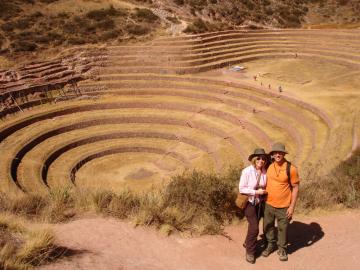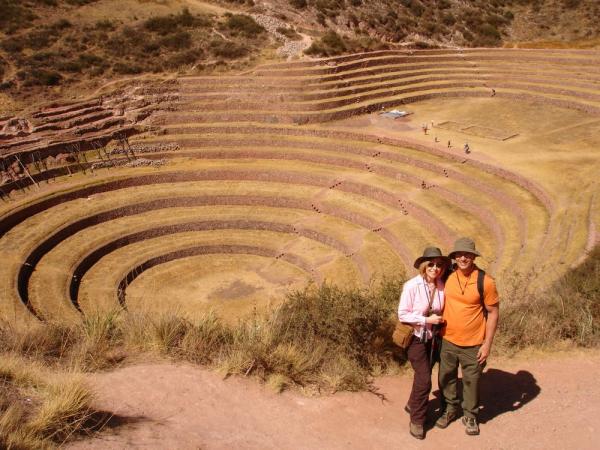 Today I woke up early to see the resident alpacas at the Pakaritampu. The gardens here are pretty and peaceful.
Our driver comes and we're off to see the Sacred Valley. On the way have glimpses of the glaciers we flew over on the way in, which Marco explains in Incan culture are believed to be the Apus, the sacred mountain dieties. The winding road leads us past farmers working their fields by hand and with animals. We pass children tending to the flocks of sheep, and then we reach the village of Maras on our way to Moray. This village is also built on Incan walls and seems busy with signs of life and death as a funeral procession passes by. The people here are also very friendly and we notice a difference in their dress from the village of Ollantaytambo, which Marco tells us is how they distinguish themselves from each other. He also tells us a fable of a deadly magical powder of Maras, which we hope is just a fable and plan to not wander out on our own just in case!
To my dismay, I see a good amount of people with obvious cataracts. Marco tells us that is a problem here due to the sun and the altitude. I wonder to myself if there is something I can do about this when I get home with my hospital connections.
We then arrive at Moray and walk down into the concentric circles. Stepping down the flying stairs made my big American feet feel even bigger! As we sit and listen to Marco explain this site to us, I realize how lucky we are to have him as our guide. He tells us what some people think, what other people think, and what the facts are. As each day goes by we seem to have a "thank God we have Marco" moment.
After Moray we make just a short stop at the salt pans before we stop for lunch. Again, the food is so good I have recipes to try when I am home.
Next, we are on our way to Pisac. Even though it is a great shopping day here we would prefer to see the ruins, so we pass the market and go up to the entrance of the ruins. We are totally amazed at the grandness of this site. We spend the afternoon walking the trails here, learning about the locals who live above this site. Then an elderly lady pops out of nowhere from above, greets us, then continues the walk down. How can she breath so easily?! Again, our visit is later in the afternoon when the crowds are gone and the shadows are great for taking pictures.
When we are finished here, we continue on and visit the workshop of Pablo Seminario in Urubamba, a great place to buy safe, functional ceramics. We learn on the ride back that even our driver is a facinating man, an archeologist and a musician who traveled the world and who now is working at home to be with his family.
After we arrive home in Ollantaytambo, we have another wonderful dinner (all this hiking and climbing creates huge appetites!). We then go back to our room and prepare for our next exciting day, our day hike into Machu Picchu. We had already received the pre-planning packet from Adventure Life instructing us to limit our Machu Picchu packing to 22 lb, so we pre-packed those things at home, making the night before packing much easier, basically limiting it to what we are storing at Pakaritampu. I will miss this town, its people, but I look forward to tomorrow. Marco talks about cliffs, which scare me, but you only live once, so we'll see what tomorrow brings.
Good night!