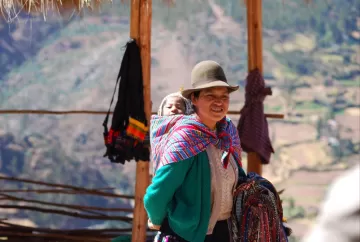 Boarding the train to Machu Picchu felt like a step back in time. I felt like I should be wearing a vintage wide-brimmed hat while being escorted by a pair of English Wolfhounds. There really is no better way to travel if you want to really SEE a country. The train ride through the remote areas of the Sacred Valley alone was worth the trip to Peru as we witnessed yet another glorious view of Victoria, peeped into the backyards of some farming homesteads, and slowly transitioned to the greenhouse beauty of the Aguas Calientes region.
I still cannot describe how it felt to finally see the ruins at Machu Picchu. I had read about it, dreamt about it, and had almost given up on ever seeing it. So, the tears quietly welled in my eyes as we rounded the corner of a storage building to a sight of architectural phantasmagoria! It was overwhelming as I didn't know what I wanted to do first. Fortunately, our guide helped us to navigate our way through the ruins and helped us to understand the theories that surround why Machu Picchu was built, why it is still standing, and why it may have been abandoned.
Our guide, Santiago Castelo, enhanced our visit 1000x's over! I had anticipated that I would have to rely on my own research of Machu Picchu to enjoy this place, but his knowledge and personal perspective of the Inca clearly enriched our experience.