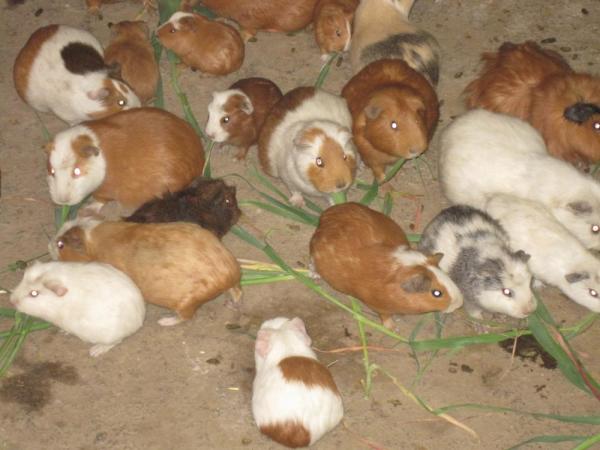 Today's adventure started at approximately 14,500 feet at the Malaga Pass. We jumped on mountain bikes, zipped up our jackets (it was chilly up there) and started on our way down this big mountain. The views all along the way were simply breathtaking. We could see the Veronica Glacier at almost eye level when we started out. We passed down through the different levels of the mountain and the weather got warmer and warmer as we descended - and the vegetation got more and more green and lush. Since we started this ride very early in the morning (about 7.30am), only 2 cars passed by us the entire way! There were some steep spots and some hairpin turns, but it was Fun, Fun, Fun all the way down!
After the bike ride, we checked out the town of Quillabamba. First we checked out the local market with Juan, our cook, while Marco and the driver found the campsite that we were going to be going to that evening. At the local market, my boyfriend decided to be adventureous and try the local homebrew called, Chicha. It is fermented corn beer and he says it had a bit of a fruity taste - pretty good he said! I opted not to try it as my stomach isn't quite as tough as his and Marco had mentioned that if it's not fermented correctly there can be, how to say it, "dire" consequences to non-locals! Later in the afternoon we both tried a local beer recommended by Marco - the beer is called Cristal and he recommended mixing it with Coca Cola or Sprite. It was actually quite delicious and a bit refreshing!
We headed off to the campsite in the evening which was at a local's house (in the backyard) and right next to the Urubamba river. It was another beautiful location selected by Adventure Life. We played some frisbee with the owner's dog, got the tents all set up, we went for a walk down to the river, and then had a lovely dinner prepared by the fabulous Juan. We hit the hay early as we had a big day ahead of us. The weather on our trip had been absolutely perfect - tonight we got our only rain on the trip for about an hour when we were in our tents. The weather gods were on our side!