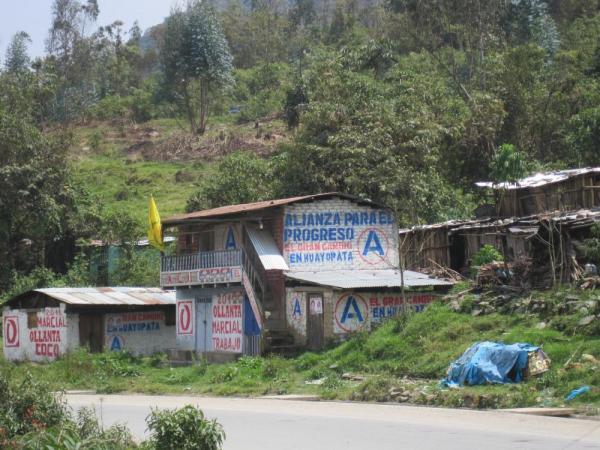 This day was such a treat for me (Amy) - I love cooking and have always wanted to take a cooking class! Well, this was everything I could have ever asked for and more. The day started out by Marco taking us to Sacsaywaman ruins in Cusco. More amazing Incan ruins where one just does not know how they got all those rocks in place and so perfectly fit together! A real mystery....from that vantage point we saw the entire city of Cusco.
Then we were off to the Central Market to pick up some fresh vegetables for the day's cooking class. We toured the whole market including the meat section - that was an experience of sights and smells! Marco knew many of the vendors which was a unique treat - we also found out that there are approximately 2,700 varieties of potatoes in Peru (and here I thought Idaho was the potato capital of the world!). We had a juice drink at the specialty fresh squeezed juice bar section of the market and they were out of this world - highly recommended!
Now we were off to Marco's restaurant, A Mi Manera for our cooking lesson. First, we started off by donning the chef outfits, then our first recipe was the Pisco Sour. We got behind the bar and were told the order and amount of each ingredient and added them to the cocktail shaker. Then we shook, and shook, and shook the cocktail to make sure the egg white got nice and frothy. We poured them into our glasses, added a dash of bitters and tasted them - YUM - I think it's my new favorite drink!
On to the cooking part - they had everything ready for us in the kitchen - it was like being on the Martha Stewart cooking show - such a treat and so much fun. We made Causa (with avocado filling), Lomo Saltado (the typical Peruvian beef dish), Quiona soup, and Tomato/Avocado salad. The Lomo Saltado was especially fun, because it includes white wine in the marinade, so when I tossed it into the pan it flamed up! I think they enjoyed seeing the look on my face when that happened... The chefs in the restaurant only spoke Spanish, so it was interesting when they were saying something obviously quite urgent, but we didn't know what it was - Marco would translate for us and many times it was something like "be careful with that knife or you will cut your finger off!".....thank goodness for our translator!
After all that cooking, we enjoyed the wonderful meal together with Marcos and then bid him farewell. The rest of the day we spent exploring Cusco on our own. That night, though not very hungry, we tried one of the most amazing restaurants in town. It's called Sara, an organic foods restaurant....and they have some pumpkin ravioli that is out of this world! Highly recommended!
After dinner, we were walking back to our hotel, when we happened across a political rally in the Plaza de Armas. All along the trip we had seen many of these and so many political signs on houses, boulders, anywhere that could be painted was covered! This night, we thought it would be fun to join in - so we started dancing to the catchy music and then all of a sudden we were "celebrities" - people started handing us signs and pulling us in to the circle to dance around. Then they would replace our sign with bigger signs or flags! We even got a picture with the mascot of the political party - the PAN party (pan means bread in Spanish, so the mascot was a piece of bread - pretty cute!).