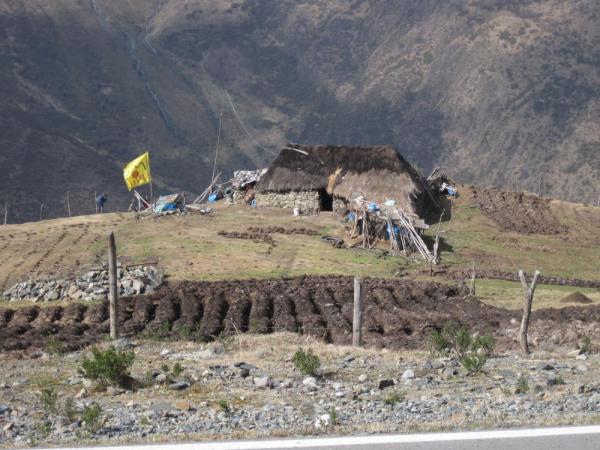 Today we modified the original plan for the day....in the morning we decided to try the zipline in Santa Teresa. It's called Cola de Mono (or Monkey's Tail). There are 6 lines and some of the longest ones I've ever been on. The longest was 1,500 feet and across the Urubamba river at least 750 feet up above it! This was such a treat for us - we had a blast. I even took a video of myself going across the zip line.
After that, we chose to walk/hike to Aquas Caliente from the train station in Santa Teresa (instead of taking the train there as originally planned). It was a nice hike along the river and the train tracks. A bit easier than the originally planned hike and I throughly enjoyed it. Marco is also an avid bird watcher and botanist of sorts - he pointed out many birds and plants along the way. I'd like to note that Marco spoke perfect English and in fact at one point was telling us about a bird we had just seen - he gave us 2 Latin names for the bird and one more common name - all of which we had never heard of - at that point he said that he only had those THREE translations for us - I guess he knows more English than we do - at least words for birds and plants!!!
We also got to see Machu Picchu from the back side which was interesting -- then when we were up there we could look down and see where we had been walking! It was a long, intense walk of approximately 3 1/2 hours - it was a real treat once we could see Aguas Caliente come into view. A nice reward at the end of the hike. We checked into the lovely El Mapi hotel (what a great treat after 2 days of camping), then we had dinner and got to bed early so that we could get on one of the first buses up to Machu Picchu.